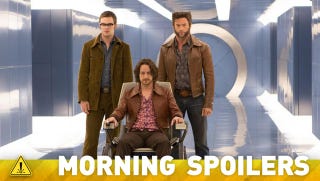 Have they cast the not-Lex Luthor villain for Man of Steel 2? Katee Sackhoff is insistent about not being in Star Wars. Go behind the scenes of The Hobbit with three new videos. There's Warcraft casting, and Orphan Black hints. Plus, the Amazing Spider-Man 2 cast breaks down the trailer. Spoilers now!
X-Men: Apocalypse
We know what the next X-Men movie will be about and when we'll see it. Bryan Singer tweeted:
#X-Men #Apocalypse 2016
This was followed by a report from Box Office Mojo that Fox had confirmed that the next X-Men movie would arrive on May 27, 2016 and would be called X-Men: Apocalypse. The name and the tweet seem to confirm that the next movie would feature one of the most powerful X-Men villains: Apocalypse, whose comics counterpart believes in mutants supplanting humans and enslaves humanity with that in mind.
Also hinted at here is that Bryan Singer will still be on board for that movie, since he's tweeting about it. [Coming Soon]
---
Batman Vs. Superman
Current reports have Callan Mulvey as the possible villain for the Man of Steel sequel. But the 300: Rise of an Empire star doesn't seem to fit the mold for Lex Luthor, who's been hinted at as the main villain for a while. He matches more comfortably the role of Doomsday, the other rumored villain. So, if Mulvey really is a frontrunner, it may be under the CGI layers of Doomsday. [Sci Fi Now]
---
Star Wars
Oh, Michael B. Jordan, I feel for you having to constantly address casting rumors. On Star Wars and Fantastic Four, he recently said:
With the Star Wars and all these other franchises, Fantastic Four and stuff like that, it's good to be in the mix of those conversations. You know, it wasn't like that before, so it's kind of cool to be in those conversations right now.
That's nicely ambiguous. Katee Sackhoff, on the other hand, is less so when addressing the rumors about her:
Big things happening people...I wish I could tell ya about them but that would ruin the fun surprises. Xoxo No not #StarWars stop asking! ;)
Finally, David Prowse would like to return in some way, even though his Darth Vader was killed off in Return of the Jedi. He says he could still play a role, since his face was never seen. [Slashfilm]
---
I Walk With the Dead
Nicolas Winding Refn's all-female horror film may still be just in the discussion phase, but Carey Mulligan's willing to wait until whenever to work with Refn again. She recently said:
I don't know what it is yet. That's all in his mind.

I'll go with him, I'll go anywhere with him, because I think he's just such a brilliant filmmaker, but that's never been more than the two of us saying we'll make a film together again.

. . . I lived with him and his family when we were filming Drive, and we really liked working together and wanted to do something where I had more to do. And so he always talked about doing this film called I Walk With The Dead, and then he announced it at a film festival in a middle of an interview and it turned into a thing.

. . . We're in contact all the time, but we haven't sat down to talk about what it's going to be. I mean, it could happen in 10 years, but I hope it happens eventually. I'd love to work with him again.
---
Chronicles of Narnia: The Silver Chair
The fourth Narnia movie will be written by David Magee, who wrote Life of Pi. [Slashfilm]
---
Warcraft
There's no information about what the roles are yet, but we do know that three leads have been cast. They are: Ben Foster (3:10 to Yuma), Toby Kebbell ( Wrath of the Titans), and Rob Kazinsky (True Blood). Dominic Cooper is in negotiations to be the fourth. [First Showing]
---
The Amazing Spider-Man 2
We broke down the trailer, but here's the cast discussing the key moments. [via Coming Soon]