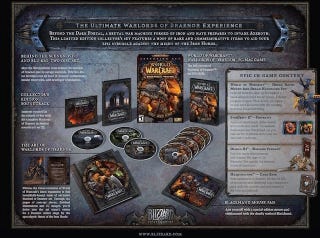 Warlords of Draenor hits November 13. Preorder the Collector's Edition today, which includes soundtrack, artbook, and "epic" in-game content. [Warlords of Draenor CE]
---
Get these deals and more, and earlier on Deals.Kinja. Connect with us on Twitter and Facebook to never miss a deal, check out our Gaming and Movie/TV release calendars to plan your upcoming free time, and join us for Kinja Co-Op to vote on the best products. Got a deal we missed? Post it in the comments with a link and we'll share right to our Deals homepage.
---
The Amazon Exclusive Cowboy Bebop Premium Set is now up for preorder, and $30 off MSRP no less. [Cowboy Bebop]
---
Unless you are totally stocked for HDMI cables, you should probably pick this up. [3 pk. Twisted Veins Braided HDMI Cables + Right Angle Adapter, $7]
---
Your movie nights will be the envy of the neighborhood with this 120" projector screen. It has a black backing to prevent light loss, and the frame breaks down to fold flat in minutes. [Visual Apex 120" Projector Screen, $200]
---
This Lumsing external charger includes a built-in charging cable, and it's marked down to its lowest price ever. [Lumsing 5200mAh External Charger, $14 with code 5200MINI]
Need more capacity? You can't go wrong with an Anker, and this one has 13,000mAh of juice for just $30. [ Anker 2nd Gen Astro E4 13000mAh External Battery Pack, $30]
---
It's time for another edition of Kinja Co-Op. Head over there and nominate your favorite electric razor .