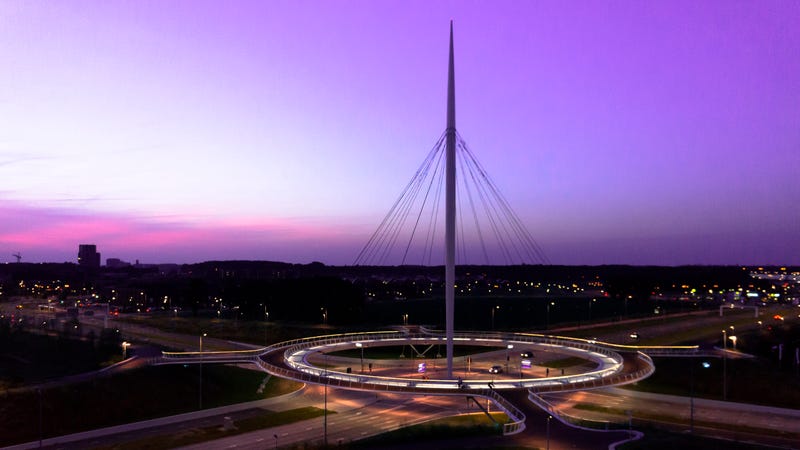 Bicycles may be part of the future of transit, and designers and city planners are constantly looking for ways to make cycling safer and more appealing to commuters. Here are a few innovations—beyond bike paths—that could make cities better for bikes.
Top image: The Netherlands' Hovenring.
There are a number of basic things that cities can do to make cycling safer and more attractive: creating a network of protected bike lanes, studying preferred transit routes, discussing the impact of helmet laws, implementing bike share programs, and creating better maps and signage for existing bike routes. But here are a few additional infrastructural ideas, some of them speculative, some of them already in place, that could impact the future of cycling.
Protected Intersections
Many bike-friendly cities have constructed—or are in the process of constructing—protected bike lanes that segregate bikes from motor vehicle traffic through curbs, planters, posts, or other means of physical separation. But even when bike lanes are protected, cyclists and motorists are still at risk of collisions at intersections.
Urban planner Nick Falbo has proposed a design solution to the problem of shared intersections, inspired by Dutch junction practices. Falbo's proposal involves having specific crossings and signal lights for cyclists—much like pedestrians have their own crosswalks and walk lights.