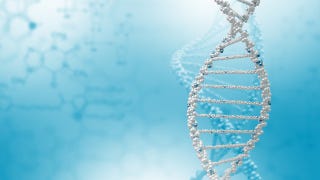 In a landmark ruling, the Supreme Court of the United States has declared that isolated chunks of human DNA cannot be patented. And thank goodness for that. But it's a ruling that comes with a compromise: Moving forward, companies can still patent synthetic genetic material.
The court concluded today that human DNA is a product of nature and a basic tool of scientific and technological work. It's outside the domain of patent protection and not something that can be deemed an invention or a technological discovery.
As a result of the ruling, the court struck down patents held by Myriad Genetics on a pair of genes linked to a higher risk of breast and ovarian cancer, namely BRCA1 and BRCA2.
And yes, Angelina Jolie carries the defective BRCA1 gene. She recently underwent a mastectomy to reduce her risk of developing these cancers. But up until today, Myriad Genetics was actually making a patent claim on that gene. I know — it doesn't make a hell of a whole lotta sense. Which is why this ruling is being seen as a victory for rationality.