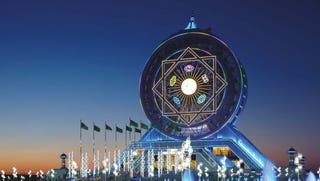 Turkmenistan was once an important stop on the Silk Road, and the country still has 2,000 years of architectural masterpieces. But since the fall of the Soviet Union, Turkmenistan's capital city Ashgabat has become a futuristic wonderland, with free internet and some astonishing architecture.
The last First Secretary of the Turkmen Communist Party named Saparmurat Niyazov (later known as the Türkmenbaşy, means 'Leader of Turkmen') became the first President of the independent country until his death in December 2006.
In these 15 years he created one of the most repressed countries ever, returned to the Turkmen alphabet, renamed all months and days after his family (among others), and built a supermodern capital city, similar to Astana.