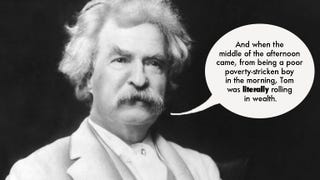 Lately, it seems that there are few words in the English language that stir up as much semantic ire as "literally" does. As more and more people have been using "literally" to mean "really," some English speakers fret that the meaning of the word will change. But the truth is that it would hardly be the first.
Top image includes a quote from Mark Twain's The Adventures of Tom Sawyer.
Certainly there's nothing inherently wrong with debating English usage (although those debates can often cross the line from useful to elitist). After all, we want a language that allows us to communicate our ideas easily and effectively. But it's also important for us to keep our linguistic history in mind. After all, complaining about English is nearly as old as English itself, and today's correct usage is, in many cases, yesterday's semantic mistake.