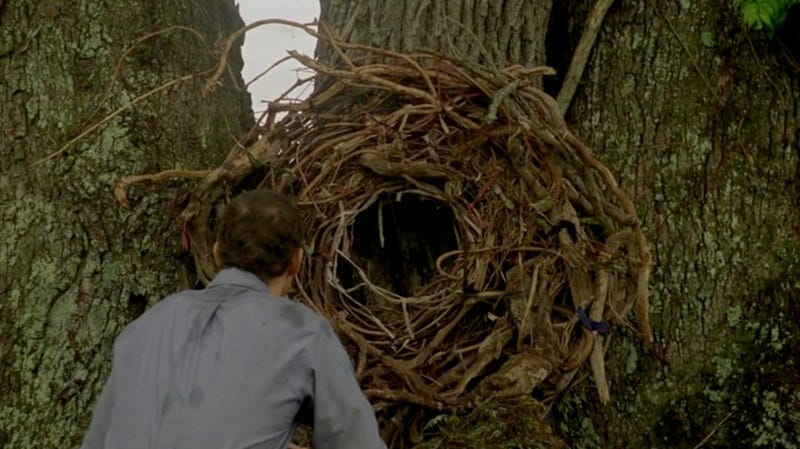 On last night's episode of True Detective, "The Secret Fate of All Life," we began to understand where Detectives Papania and Gilbough's interviews with Rust and Marty have been leading. Is it a false path, or something that will take us past the thicket of lies? Spoilers ahead.
I think one of the most interesting parts of last night's episode was that we saw the first fissure forming between the stories that Rust and Marty have been telling, and the "truth" that we're seeing in flashbacks. After their hellish fight at the stash house, Rust gets Red to arrange a meeting with suspect Reggie Ledoux's meth cooking partner. But Ledoux's buddy isn't interested in Rust's offer. "I can see your soul at the edges of your eyes — it's corrosive, like acid," he says to Rust. "You've got a demon, little man. And I don't like your face."
Which is exactly the kind of thing that meth-cooking trash say in this show. And it also tips us off to the theme of this episode, which is looking into Rust's face and getting damn creeped out.
Even though the deal was a bust, Rust and Marty are now able to follow Ledoux's partner back to the creepy lair where Ledoux is hanging out in a bath towel and torturing children. But I'm getting a little bit ahead of myself. As the two men creep through the wilderness, past homemade tripwires and minefields, we hear their voiceover narration explaining that as soon as they got to Ledoux's place they were under fire.
"Blam! Bullets cut through!" Marty says, evoking a scene of mayhem where he and Rust heroically dodged machine gun fire to kill Ledoux and rescue two kidnapped kids. But as we watch the scene unfold, we see that nothing of the sort happened. They walked into Ledoux's house, grabbed Ledoux just as he was getting out of bed in his gross towel, and cuffed him. Marty goes into the house to investigate further, while Rust tries to get Ledoux's partner pacified.

"It's time isn't it? The black stars," Ledoux mutters insanely to Rust. He's referring to the "black stars" we saw in Dora Lange's notebook — and which are themselves a reference to what you'd see in the sky of Carcosa, the imaginary land from Robert Chambers' book The King in Yellow, which provides a lot of the weird imagery for this series.