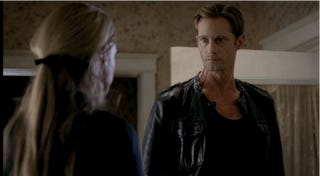 True Blood is BAAAAAaaaaaaack! And we're so excited. Here it is — the first super spoilery recap to the 6th season premiere episode stuffed to the brim with HOT VAMPIRE BOOK READING ACTION.
Let's GET TO IT:
Pro: The episode takes off right where we left off last season. With the creation of Billith. Which means....
Pro: BILLITH CAM.
---
Pro: And of course the BILLITH CAM means slow motion close up of Sookie saying FUUUUUUUUUUUCK.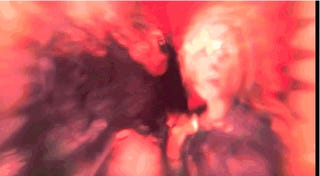 ---
Pro: But before anything truly amazing can happen Eric and Sookie flee the scene. But not before shoving the main character right into a pile of undead vampire goo because THIS IS TRUE BLOOD! Self HIGH-FIVE.
Con: Pause to call my Mom and ask her for her HBO.Go password again because I just high-fived my computer onto the floor causing it to shut down, like a boss.
Pro: AND WE'RE BACK. What is Billith the living man merkin up to now? He's disconnecting the Vampire Conference Room's electricity, obviously. And this causes the Vampire Conference Room Building to ASSPLODE. OBVIOUSLY. Because one, explosions are what happens in these kinds of situations. And two, of course Bill studied the intricate workings of this building and knows exactly where the vampire circuit boards are. Rip Billith rip. Normally I would laugh at this situation but I think we all can agree that the Vampire Board Room HAD TO GO. Good riddance you terrible waste of a season. Toodle-oo disappointing Vampire Authority which not only suffered from a bad case of the this-is-boring-as-hell-sies but also killed off Vampire Meloni and the best villain to ever grace this show, Russell Edgington. TAH.
---
Pro: Meanwhile Jason, Pam, Tara and Nora take their leave. Big fat pro to Nora for calling Pam "Pamela."
Pro: Cut to other characters. Remember last year shapeshifter Sam Merlotte shapeshifted inside the head of that awesome lady vampire. That was awesome. But apparently this also means that Shapeshifter Girlfriend is now dead. Goodbye Shapeshifter Lady, you were very pretty to look at but fairly low on the scale of people I give a shit about on this show. Fare thee well character who I am not going to Google search their name because, come on. Right?
---
Con: On the negative side of losing one member of this 5,000-person cast, this means Sam is now saddled with a kid. Because kids make everything better on television shows.
Con: Billith continues his assault on the Vampire Business Center via Billith Cam, because it's important that we, the audience, understand his general knowledge of the inner workings of this building we will never visit again.
Con: TERMINATOR BEEEELLITH rises from the flames and FLIES AWAY. LOL. LOL. LOL. LOL. LOL. LOL. LOL. LOL. LOL. LOL. LOL. LOL. LOL. LOL. LOL. LOL. LOL. LOL. LOL. LOL. LOL. LOL. LOL. LOL. LOL.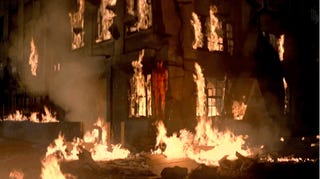 ---
Pro: I desperately want to see the script page for this. *Naked, and covered in the blood of Lilith, Bill walks through the flames unscathed. Billith looks to the night sky, and flies away. Should look as horrifying as a naked man flying through the air sounds.* SCENE
Pro: True Blood Titles! FINISH YOUR DRINK! (Are we playing a True Blood drinking game? I just assumed we were always drunk when talking about this show, we're not? Oh I finished my drink anyways.)
Pro: First very good Jason-ism. "Unless he's flying over us like a naked, evil Superman." Also this is VERY TIMELY. Bill is Jesus now.