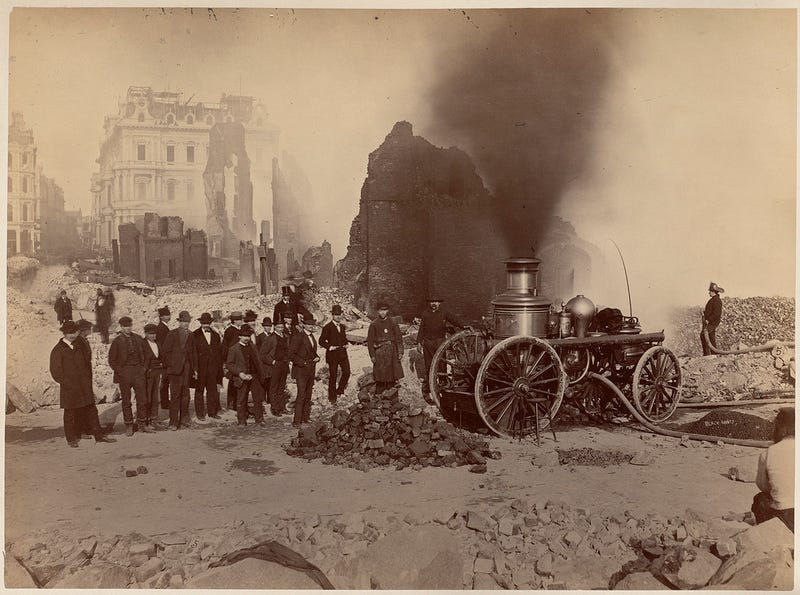 We're used to photos and video footage of disasters almost as soon as they happen, but the relative permanence of these disaster photographs forces us to truly reflect on the destruction and tragedy that once occurred, even though it all happened decades ago.
Top image from after the Great Boston Fire.
The Great Boston Fire of 1872
(via Boston Public Library and Wikimedia Commons)
The Children's Blizzard (also known as Schoolhouse or School Children's Blizzard), January 12-13, 1888
The day started out warm, but a blizzard came out of nowhere and met a cold front, causing the temperature to sink to -20º F (-28º C) and creating a deadly snowstorm. 235 people were killed, most of them schoolchildren.
A few weeks later, one of the most severe recorded blizzards in the history of the USA occurred.
Snowfalls of 20–60 inches (51–150 cm) fell in parts of New Jersey, New York,Massachusetts, and Connecticut, and sustained winds of more than 45 miles per hour (72 km/h) produced snowdrifts in excess of 50 feet (15 m). Railroads were shut down and people were confined to their houses for up to a week. – according to Wikipedia.
(via AAA Heating and Wikimedia Commons – 1, 2)
The failure of the South Fork Dam on Lake Conemaugh, near South Fork, Pennsylvania, May 31, 1889
After the catastrophic failure of the South Fork Dam on May 31, 1889, 20 million tons (18.2 billion litres or 4.8 billion US gallons) of water were unleashed and caused the Johnstown Flood that killed 2,209 people. You can see more of the worst architectural disasters in history here.