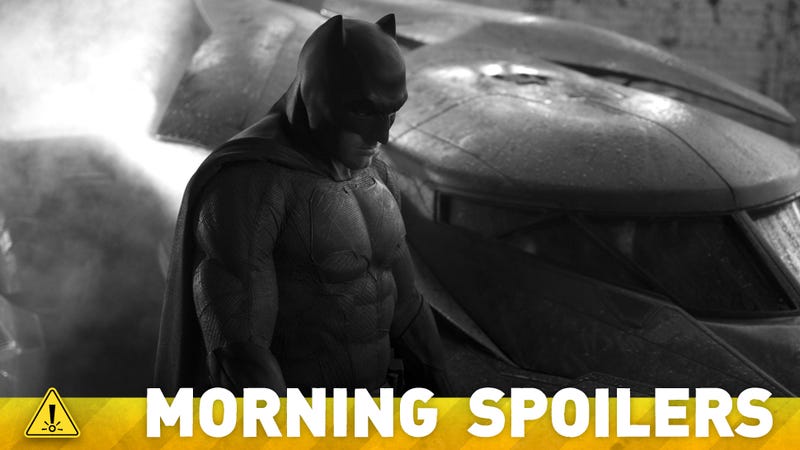 Harrison Ford really could play Deckard in Blade Runner 2. Jason Momoa pokes fun at those Aquaman casting rumors. Story of Your Life gets major distribution. Doctor Who snags the director of Tank Girl. Plus tons of new footage from Extant, the supernatural medical show Proof, The Flash and Maleficent. Spoilers right now!
Top image: Superman Vs. Batman.
---
Superman Vs. Batman
Jesse Eisenberg says he's approaching Lex Luthor like any other character:
The character's really good, so it's like doing anything else. They make a lot of those movies, so if you're an actor in things, you will probably cross paths with it at some point. But the character's written really well. It's a really great role. The fact that it's in a big movie, you know, it seems like a character that would be in any kind of movie. It just happens to be in a bigger, flashier kind of thing.
[IGN]
Jason Momoa once again pours cold water on the rumors he's going to play Aquaman, pointing out he looks nothing like Arthur Curry: "I know, Aquaman! I couldn't even be more random for Aquaman, you know, with the blonde hair...I don't even know where that comes from. It's like me being, uh, Robin or something. Who pulls that out? I see that on the Internet and I'm like, Aquaman? A guy like...Lobo, I could see." See for yourself below. [Mstarz]
---
Hunger Games: Mockingjay
New set photos reveal Katniss being protected from a mindwiped Peeta, Katniss and Peeta kissing, Peeta playing the circle game, Natalie Dormer (Cressida) with a partly shaved head... and the death of Boggs, which looks much the same as it does in the book. Tons more pics at the links. Photos via MockingjayUpdates and FrostingPeetasWounds. [Panem Propaganda, Page to Premiere and Mockingjay]