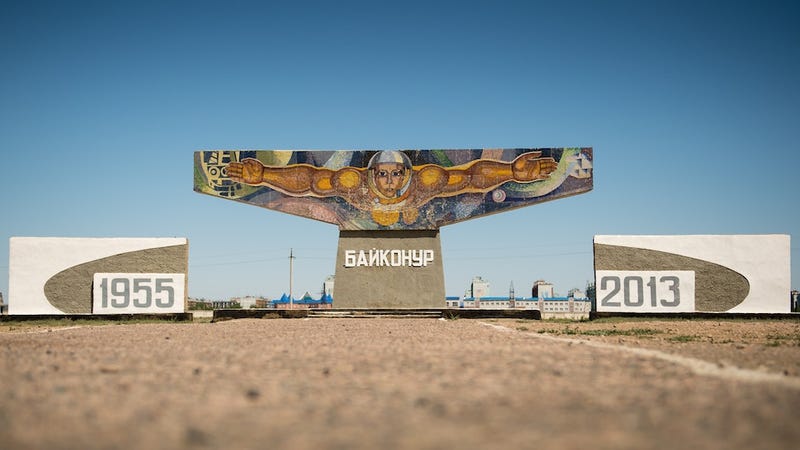 Both Sputnik 1 and Vostok 1 were launched from Baikonur Cosmodrome, located in desert of Kazakhstan. It has since served as a launch pad for generations upon generations of spacecraft, including the International Space Station. Take a tour of Baikonour as it looks today.
The photo above was taken by Bill Ingalls/NASA.
The Cosmonaut Hotel, where some astronauts have been accommodated before and after their flights
(via Alexpgp)
Flight Engineer Karen Nyberg of NASA pauses for a photo while signing a hotel room door at the Cosmonaut Hotel, 2013
(Photo by NASA/Bill Ingalls)
The Soyuz TMA-05M spacecraft is rolled out by train on its way to the launch pad, 2012
(via NASA/Carla Cioffi)
Extreme Danger Zone
(via NASA/Bill Ingals)
An Orthodox Priest blesses members of the media, the crew and the Soyuz rocket, photos from 2012 and 2013
(Photo by NASA/Bill Ingalls 1 – 2 and Carla Cioffi)
The Soyuz TMA-05M launches in 2012
(Photo by NASA/Carla Cioffi)
The Energia Launch Site and its flame bucket
The crawlers for Energia and Buran
(via Baikonur and EnglishRussia)
Abandoned facilities, pipes, and launch pads
You can see more abandoned Soviet space facilities here, including a secret laboratory, a military town, and the first flight control center used during Gagarin's mission.