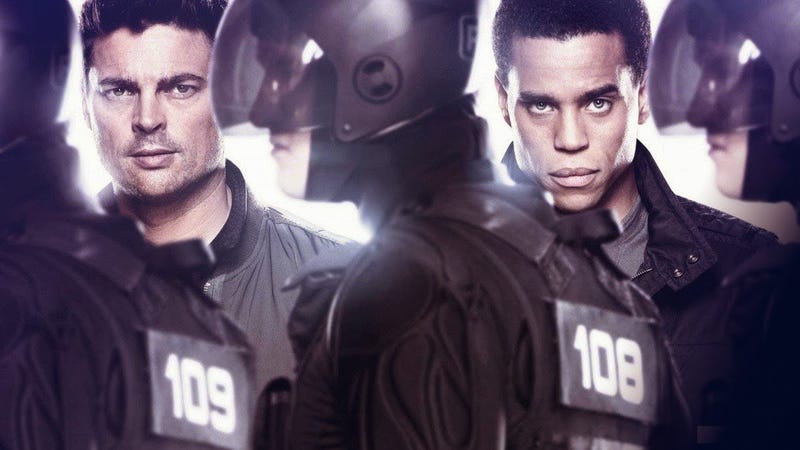 This week, Karl Urban teams up with an android to fight crime in Almost Human, while his Star Trek crewmate John Cho returns to Sleepy Hollow. Possibly the best TV show of the past few years comes to our screens. And a legendary physicist is played by an Academy Award-winner! Check out clips and details for all this week's TV.
Top image: Almost Human.
Today:
Steven Universe (8 PM, Cartoon Network):
In two brand new episodes: "A mission to the Lunar Sea Spire takes a treacherous turn, but Steven has packed his totally amazing Cheeseburger Backpack with anything they could ever need!" And then: "Steven tries to get the Crystal Gems to take part in his special breakfast tradition, but instead finds himself tumbling through the magical rooms of the Crystal Gems' Temple."There's also a new Regular Show at 7:30 and a new Mad at 8:30 PM.
Beauty and the Beast (9 PM, The CW):
That's what this show needed: daddy issues!
VINCENT'S LATEST MISSION GOES HORRIBLY WRONG — Cat (Kristin Kreuk) confronts her birth father (guest star Ted Whitall) about the mysterious role he's played in her life, while Vincent (Jay Ryan) has to neutralize a high-profile beast. In the process of doing so, Vincent finds himself rescuing Tori (guest star Amber Skye Noyes), a damsel in distress, who may be the key to completing his mission.
Sleepy Hollow (9 PM, Fox):
Not only are we getting a dose of Karl Urban this week (scroll down for info), we're also getting a visit from his Trek co-star John Cho! Let's hope there's more weird dislocated neck shenanigans... "Abbie and Ichabod must find hidden clues to thwart the evil in Sleepy Hollow and Abbie gets an unexpected visit from the enigmatic Andy Brooks (guest star John Cho)."
Also on TV tonight: There's a new Crash & Bernstein on Disney XD at 8 PM. There's a new Castle on ABC at 10 PM.
---
Tuesday:
Agents of SHIELD (8 PM, ABC):
Once again, it seems like our heroes aren't being kept entirely in the loop... let's hope this leads to a general raising of the emotional stakes here. "Dangerous secrets are being kept from Coulson's team, and he works the system to save Ward and Fitz when they are sent on a Level 8 classified mission that may end in tragedy."
The Originals (8 PM, The CW):
I'm pretty excited about Marcel making Rebekah an enticing offer. Also, I guess this is the one where Tyler from Vampire Diaries comes back and fights Klaus, just to make sure this show doesn't carve out too much of its own identity.
A BLAST FROM THE PAST — When someone from Hayley's (Phoebe Tonkin) past makes a startling revelation, she grows concerned for herself and the baby. Amidst growing tensions between them, Klaus (Joseph Morgan) and Elijah (Daniel Gillies) turn to Sabine (guest star Shannon Kane) for help in locating Hayley, who has gone missing. After making a trip down to the bayou, Klaus has a surprising and dangerous encounter with an unexpected visitor. Meanwhile, Davina (Danielle Campbell) makes a surprising connection, and Marcel (Charles Michael Davis) makes Rebekah (Claire Holt) an enticing offer that leaves her torn.
Black Mirror (9 PM, DirecTV):
I guess this is the first time this amazing British anthology series by Charlie Brooker has been broadcast officially in the United States. All six episodes are airing over the next month and a half. As we wrote last year: "All three episodes [of the first season], set in near and distant futures, are about how we integrate new technologies into the most intimate parts of our lives, often with hideous results. What makes this series so powerful is its incredible psychological realism. The future worlds we see in Black Mirror may be fantastical, but the pettiness, self-absorption, and misdirected righteousness of its inhabitants are as familiar as home." If you get DirecTV, this is not to be missed.