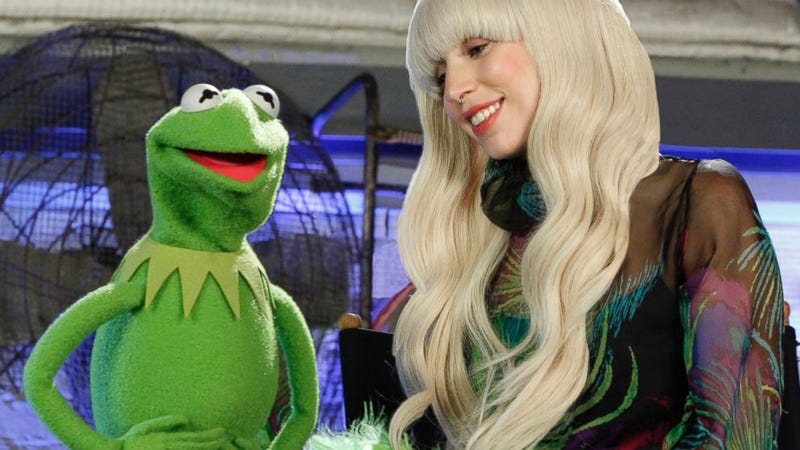 There's tons on television this week. Like Lady Gaga and the Muppets! A new Star Wars special! Dean Winchester becoming a virgin! Bizarre TV movies! A MST3K marathon! The Walking Dead midseason finale! But we still want to put in a special plug for a must-watch show: Nikita.
Seriously, if you're not watching Nikita in its final season, you're missing out on no-holds-barred crazy excitement. Scroll down to find out more about that, plus clips and details for all this week's brand new episodes!
Top image: Lady Gaga and the Muppets
Today:
Adventure Time and Steven Universe (7 PM, Cartoon Network):
First, Princess Bubblegum asks Finn and Jake to help collect samples in the Desert of Wonders — but her robot helper James is causing trouble and goo monsters are attacking. And then, Steven tries to master the power of shape-shifting, but only manages to turn his fingers into tiny cat heads. Oops! Also, there's a 30-minute Regular Show Thanksgiving special at 7:30, and a new Mad at 8:30.
Almost Human (8 PM, Fox):
Check out three clips above! Not only is this the most straight-up science-fictional new show this fall, it's also a pretty decent hit thus far. This time around, Kennex and Dorian deal with a hostage situation — but Captain Maldonaldo wants to meet the terrorists' demands.
Beauty and the Beast (9 PM, The CW):
The midseason finale — which could mean that the "alters for good" thing below actually refers to a meaningful change in the show's status quo. Here's hoping, anyway:
A DIFFICULT DECISION ALTERS CAT AND VINCENT'S RELATIONSHIP FOR GOOD —Vincent (Jay Ryan) and Cat (Kristin Kreuk) find themselves at odds on how to deal with Agent Reynolds (guest star Ted Whittall), which forces Vincent to wonder if he is more beast than man.Cat makes a drastic move that will forever change her relationship with Vincent.
Sleepy Hollow (9 PM, Fox):
Now that we know that Ichabod's woman-stealing ways are responsible for this whole mess, we're going to be learning even more secrets about his past. This week: a missing persons case leads to a Colonial house that's connected to Ichabod's past, and another long-buried evil is unleashed.
Also on TV tonight: There's a new Castle on ABC at 10 PM.
---
Tuesday:
Agents of SHIELD (8 PM, ABC):
Looks like it's Melinda May's turn to get some development — this week's episode is all about a mysterious force that threatens the team, and only a secret from May's past can save them. Oh, and maybe there's some fall-out from the Grant/Melinda hookup last week?
The Originals (8 PM, The CW):
Two sneak peeks above! This show wins 10000 points for naming an episode after the incredibly underrated Elvis Costello/Allen Toussaint collaboration The River in Reverse. For that alone, I already love this episode.
THE FIRST BATTLE OF THE WAR — Rebekah (Claire Holt), facing a difficult decision, turns to Father Kieran (guest star Todd Stashwick) for guidance.Elijah (Daniel Gillies) struggles with the consequences of a recent fallout with Klaus (Joseph Morgan).Hayley (Phoebe Tonkin) remains by his side but is soon drawn away by a mysterious figure who sheds some light on her past.Meanwhile, a frustrated Cami (Leah Pipes) struggles to make sense of a cryptic message she's come across.Finally, when an unsuspecting Marcel (Charles Michael Davis) uncovers some upsetting information involving Klaus, a confrontation ends in a surprising twist.
Supernatural (9 PM, The CW):
Not sure I'll be able to deal with seeing Sheriff Mills again, without Bobby around. But meanwhile, we get to see Dean become a born-again virgin — the above clip is one of the funniest Jensen Ackles moments in years.
SAM AND DEAN REUNITE WITH SHERIFF MILLS — Sheriff Mills (guest star Kim Rhodes) calls Sam (Jared Padalecki) and Dean (Jensen Ackles) for help investigating multiple murders in her small town.Discovering all four victims belonged to the same church chastity group, Sam and Dean decide to infiltrate by joining the group themselves.When Dean disappears, Sam and Sheriff Mills realize whatever they are hunting has taken Dean too and team up to rescue him.
Futurescape (10 PM, Science):
This week, James Woods looks at the question of whether we can cheat time. How does he compare with Morgan Freeman and John Noble, hosts of similar recent shows?
Person of Interest (10 PM, CBS):
Part three of the huge three-part event. Still SUPER pissed about what happened last week. At this point, HR has to go down, for good, or it was all for nothing. Here's the synopsis: "The team seeks justice for Carter's murder, but Finch fears that one person may go too far in the battle against HR. Meanwhile, NYPD officer Patrick Simmons' number comes up."