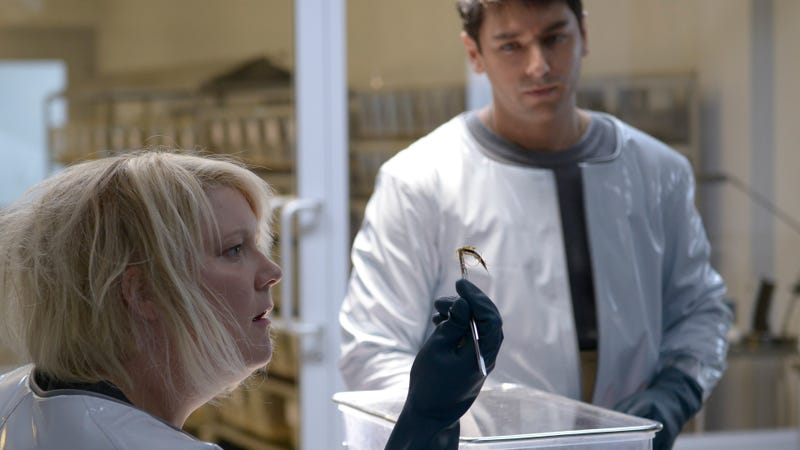 After a few quieter weeks in TV land, we have two scifi premieres airing this week. Check out the goods on Helix, the Arctic outbreak thriller that promises to be one of this year's most exciting shows. And take a peek at Josh Holloway's return to television as a government agent who can communicate with computers in Intelligence. Plus, tons of shows are returning this week, with clips and details below!
Today

Almost Human (8 PM, Fox)

When you're involved in a life-or-death situation, the last thing you need is for your android partner to malfunction:
Det. Kennex and Dorian investigate Simon (guest star David Dastmalchian), a psychopathic killer who is strapping bombs to his victims' neck and broadcasting their final moments over the internet. When Simon targets Kennex, the team is in a nail-biting race against time to save his life. Meanwhile, a power deficiency affects Dorian's energy level, causing him to have unexpected outbursts.

Teen Wolf (10 PM, MTV)

The second half of season three will introduce a brand new creature in the wake of the alpha packs disbandment: the Japanese fox spirit known as the Kitsune. But will this trickster prove friend or foe?
Tuesday


Marvel's Agents of S.H.I.E.L.D. (8 PM, ABC)

Will we learn the significance of Agent Coulson's Dollhouse reference?
"The Magical Place" — Coulson uncovers vital information about the mystery of his death, but, with Centipede out for blood, this knowledge may come at the cost of one of the team.

Intelligence (9 PM, CBS)

We weren't huge fans of this pilot when it screened at Comic-Con, but fans of Josh Holloway may enjoy his turn as Gabriel, a cybernetically enhanced government agent. Once Upon a Time's Meghan Ory co-stars as Riley, the Secret Service agent tasked with protecting Gabriel from enemy threats and his own reckless behavior.