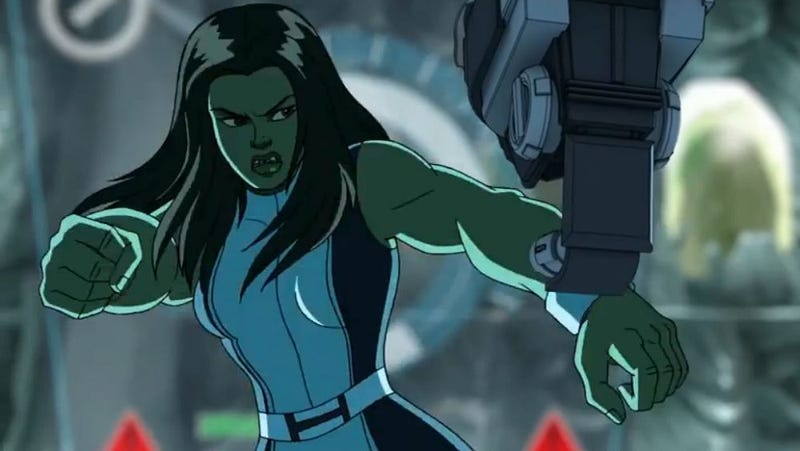 We still have to wait a month and a half for Agents of S.H.I.E.L.D., but this week Marvel is giving us the next best thing! Plus the final episodes of Breaking Bad are here. And is Shark Week still worth watching, or has the focus on education and conservation gotten tossed overboard? Watch clips from all this week's shows.
Top image: Marvel's Hulk and the Agents of S.M.A.S.H.
Today:
Adventure Time (7:30 PM, Cartoon Network)
Every week, we're like, "This is the weirdest plot they've ever come up with." But this week? We feel rock solid in our judgment. Check out the clip above, and here's what to expect from "Frost and Fire": "After Flame Princess battles Ice King, Finn has an exciting dream. But when it abruptly ends, Finn must get Flame Princess and Ice King to fight again to find out how it ends." That's followed by Regular Show and Mad.
Return of Jaws (9 PM, Discovery):
This year's Shark Week programming includes some primo shark footage, captured via robot shark cam!
[A major] first this year is Shark Cam, a robot submarine that is used to track sharks in a new and exciting way. This SHARK WEEK special includes spectacular footage of Shark Cam following Great White sharks living and hunting off the shores of Cape Cod, the setting for the Jaws film franchise. Footage of a 17-foot Great White is seen at close range over a five hour period as the shark hunts seal colonies, comes close to shore in less than four feet of water and takes a chilling interest in one specific area.
That's followed at 10 PM by another special, Voodoo Sharks.
Under The Dome (10 PM, CBS):
We're officially halfway through the season. When are we going to figure out which of these characters to root for? This week, the Dome is yet again having a mind of its own: "Big Jim takes matters into his own hands when he feels his authority slipping away, and the dome displays its power when a life is taken just as a newborn arrives."
Teen Wolf (10 PM, MTV):
Looks like we're finally getting to know the Darach! Here's what to expect: "Trapped inside an evacuated Beacon Hills hospital by a powerful storm, Scott and Derek must defend themselves against the Alphas while trying to figure out how to save Cora's life."
Also on TV tonight: There's a new Siberia on NBC at 10 PM.
---
Tuesday:
I Escaped Jaws/Spawn of Jaws (9 PM, Discovery)
Apparently Steven Spielberg did not trademark the name "Jaws," because his name is all over Shark Week this year. In these specials, we view real shark attack footage captured by eyewitnesses, and then later we follow some scientists trying to understand the breeding cycle of the Great White shark, searching for the sharks' breeding grounds in hopes of helping them to repopulate.
Also on TV tonight: A new Bang Goes the Theory on BBC America at 9 PM. And a new Capture, the "Hunger Games in three acres" show, on The CW, also at 9 PM.
---
Wednesday:
Top 10 Sharkdown/Great White Serial Killer (9 PM, Discovery):
First, we reckon up the most deadly shark attacks of the 21st century and look at the sharks you should be most scared to meet this summer. And then Emmy-nominated producer Jeff Kurr looks at two different fatal shark attacks, to try and figure out if the same shark was responsible for both. Could we be dealing with... a shark serial killer? (On a possibly related note, commenters over at the Discovery Shark Week page are expressing sadness that Shark Week no longer focuses on shark conservation, and instead only features mindless shows about "who was bit by what.")
Alien Files (10 PM, Destination America):
The first episode of a brand new show. I'm not saying it's aliens... but it's aliens.
Abductions, invasions, and conspiracies about aliens surround our world every day, from nightly news to video games to the latest box office hit. Delving into the "photoshopping" of space, the value of Wikileaks, and the role social media plays in alien stories, Alien Files offers a unique 360 degree look at how alien interaction may have affected our past, and how it will affect our future.
Confused by the Wikileaks/aliens link? More details here. This show is preceded by a special called Alien Autopsy.