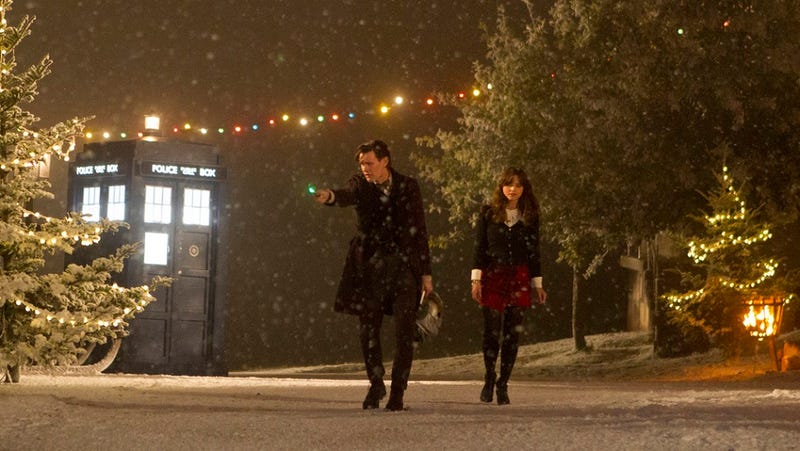 There are two sad farewells this week. First Matt Smith has his very last adventure on Doctor Who, and then the series finale of Nikita sees the super-assassin going to a dark place. There's also some of the strangest holiday programming you've ever heard of. Tons of clips and details below!
Top image: Doctor Who
Today:
There's nothing on, sorry. Time to marathon all the Nikita episodes you missed, in preparation for Friday's finale!
---
Tuesday:
Doctor Who Marathon (BBC America):
They're showing Matt Smith episodes pretty much all day, in case you need to catch up! This continues on Wednesday as well, leading up to his big finale.
---
Wednesday:
Marathons (All Day):
Syfy is having a marathon of "Christmas and wintry-themed films such as Snowmageddon, Ice Quake, Snow Beast and Yeti." Meanwhile, TNT is showing Spider-Man, The Time Machine, and the Pirates of the Caribbean films all day.
My Little Pony: Friendship is Magic Yule Log (6-10 AM EST, Hub Network):
Just what it sounds like. It's a "Yule Log," or a video image of a fireplace, being broadcast for four hours on the Hub, except that various cartoon characters occasionally put in cameo appearances around the fireplace, "as seen at Pinkie Pie's house where stockings have been hung for each of the core-cast ponies of My Little Pony Friendship Is Magic, including Princess Twilight Sparkle, Rarity, Rainbow Dash, Applejack, Pinkie Pie and Fluttershy."
Doctor Who (9 PM, BBC America):
The final hour of Matt Smith has arrived! Here's what the BBC wants you to know:
Orbiting a quiet backwater planet, the massed forces of the universe's deadliest species gather, drawn to a mysterious message that echoes out to the stars. And amongst them – the Doctor. Rescuing Clara from a family Christmas dinner, the Time Lord and his best friend must learn what this enigmatic signal means for his own fate and that of the universe.
This is preceded, at 8 PM, by a special called Farewell to Matt Smith, in which famous people and Who actors reminisce about the Eleventh Doctor.
---
Thursday:
Once again, nothing on today. We checked twice, sorry. Hopefully you've been given (or bought yourself) some nice DVD sets over the holidays — put something on.
---
Friday:
Being Human Marathon (Syfy):
Catch up on Being Human (the U.S. version) from 8 AM to 6 PM.
Nikita (9 PM, The CW):
Hot damn, this show is going out on a high note. And it sounds like the series finale, appropriately called "Canceled," is going to take us to some very dark places: