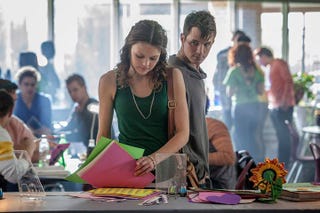 The Olympics means this is another quiet week for new television, with exception of one mid-season premiere, which adds extraterrestrial refugees to a Romeo and Juliet story. Plus, there are even more revelations ahead for Helix and The Walking Dead, and a smart house goes nuts on Almost Human. Check out the clips and details for this week's non-athletic TV.
Tonight
Star-Crossed (8 PM, The CW)
In the midst of the new TV desert formed around the Olympic, the CW is premiering its alien Romeo and Juliet series Star-Crossed. Despite the show being an immigration narrative centered on pretty white teenagers, we rather liked the pilot when it showed at Comic-Con. Aimee Teegarden stars as Emery Whitehill, who was just six years old when an Atrian spaceship crashed on Earth. For a decade, the Atrians have lived segregated from humans, in their own fenced-off internment camp under constant monitoring and curfews. Now Emery is 16 and the first group of Atrian teens are enrolling in her high school to see if Atrians and humans can coexist. This reunites Emery with Roman (Matt Lanter), an Atrian she met on the night his ship crashed. Naturally, though, many humans and Atrians at the high school aren't terribly excited about interacting with one another on a daily basis.