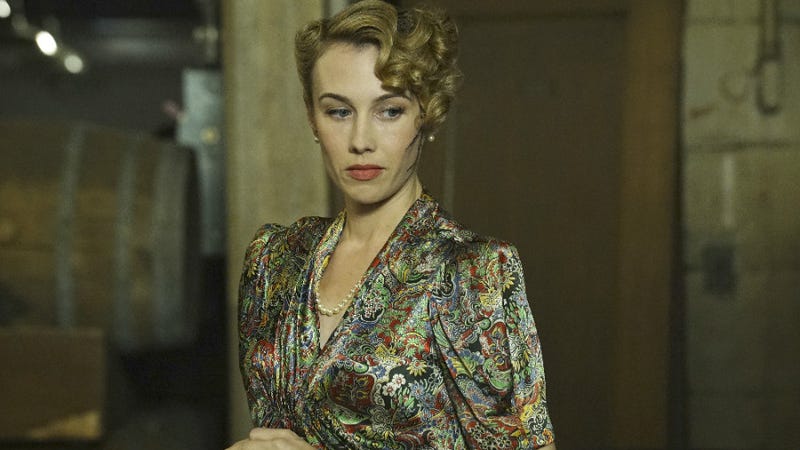 Gotham begins as Agent Carter ends! The Muppets and Shannara Chronicles close out their seasons with uncertain fates, but Frank Oz returns to voice a CG Yoda on Rebels! It's a stark time for puppets, but hey, Last Man On Earth is back! And Madchen "Dream Lover" Amick makes a villainous turn on Second Chance! It's all on This Week's TV!
Tonight
Gotham (8PM, Fox)
Mr. Freeze
"Penguin takes a hit for Galavan's murder, but doesn't let Gordon off easily. Meanwhile, Gordon and Bullock investigate the body-snatching spree of Victor Fries (guest star Nathan Darrow), one of Gotham's preeminent cryogenics engineers in the all-new 'Wrath of the Villains: Mr. Freeze.'"
Great pull quote: "One of the best shows… on television", says Howard Stern… in some... configuration.
Supergirl (8PM, CBS)
Solitude
"Kara travels to Superman's Fortress of Solitude in hopes of learning how to defeat Indigo (Laura Vandervoort), a dangerous being who can transport via the Internet and who has a connection to Kara's past."
Indigo is not Mystique. Mystique's cerulean.
Lucifer (9PM, Fox)
Favorite Son
"Lucifer bails on Chloe when he becomes bored with her investigation into a ruthless biker gang murder. However, when he discovers something was stolen during the crime that was very personal to him, he demands that Chloe let him rejoin the case."
The Magicians (9PM, Syfy)
The Mayakovsky Circumstance
"Somebody leaves school, Alice and Quentin turn into foxes, and Margo faces off with a Djinn. Welcome to Breakbills South!"
Blindspot (10PM, NBC)
Cease Forcing Enemy
"Jane (Jaimie Alexander) reels from a series of massive revelations about her tattoos and grapples with whether to trust Oscar (guest star Francois Arnaud). Meanwhile, a tattoo leads the team to a shocking discovery in the Black Sea."
Lost Girl (10PM, Syfy)
Family Portrait
"Bo searches for truth when conflicting versions of her past emerge."
Tuesday
The Muppets (8PM, ABC)
Generally Inhospitable/Because… Love
"When Miss Piggy breaks her leg rehearsing a dance number, Kermit gathers the crew and they broadcast "Up Late" from the hospital. Back at the studio, Rizzo, Pepe and Yolanda find creative ways to keep Pache occupied so he doesn't ruin the show while Kermit is out."
"After her stint in the hospital, Miss Piggy and Kermit reevaluate their relationship, and Kermit turns to Jack White (The White Stripes) for advice."
One-hour season finale! Or is it the series finale?

Agent Carter (8PM, ABC)
Hollywood Ending
"Peggy needs Howard Stark to eliminate Zero Matter as they are faced with a mission none of them could come back from."
And they may not! Agent Carter also hasn't been renewed yet.