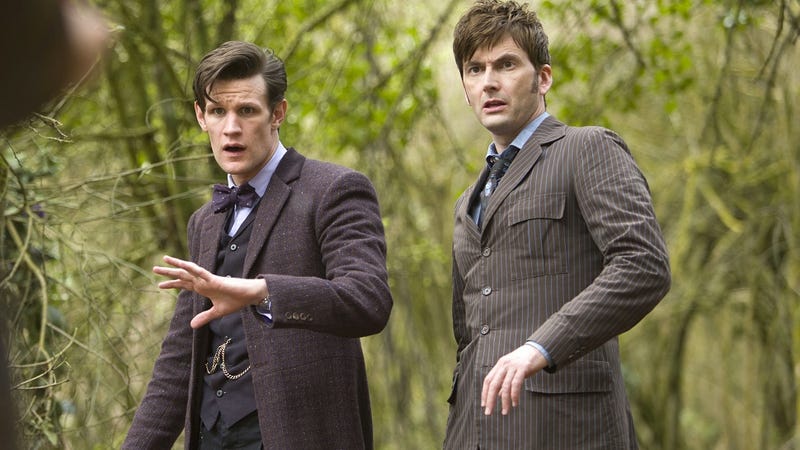 There's only one show that rules our screens this week, and it's the longest-running science fiction series ever. The entire week is crammed with celebrations of Doctor Who's 50th anniversary, including a dramatization of the early years, and a meeting of titans. Check out clips and details from all this week's TV!
Top image: Doctor Who
Today:
Adventure Time and Steven Universe (7 PM, Cartoon Network):
Check out two new clips — Steven's "chasing pants" music is my new ringtone. First, Kee-Oth the Blood Demon kidnaps Jake, and throws him into a pit, so Finn has to team up with Lady Rainicorn, using a videotape that reveals how to get into Kee-Oth's dimension. Then at 8 PM, Steven gets hold of a mystical shard that brings any item of clothing to life — and uses it to help a Boardie kid with his grueling job. Apparently Steven is doing pretty well, since Cartoon Network just ordered 13 more episodes. Also, there's a new Regular Show at 7:30 and a new Mad at 8:30.
Almost Human (8 PM, Fox):
So what did you think of the series premiere last night? Is this a worthy successor to Fringe? You get another chance to decide about that tonight, when Kennex and Dorian investigate a murder and missing persons case that lead them into the steamy, tawdry world of "sexbots." Woo hoo.
Doctor Who: Tales from the TARDIS (9 PM, BBC America):
The week of Doctor Who celebrations begins with this brand new special about the show's history. Here's what to expect:
The special features exclusive interviews with principal cast members from the show's 50-year history, including actors who have played the Doctor: Matt Smith, David Tennant, Tom Baker, and Peter Davison, actors who have played companions: Jenna Coleman, Karen Gillan, Freema Agyeman, and William Russell, as well as the current lead writer and executive producer Steven Moffat. The discussion includes how the actors got cast, how the roles changed their lives, how a 'regeneration' is recorded, and how filming the show in the 60's compares to today.
There's also a marathon of The Doctors Revisited specials, focusing on the first ten Doctors, all day.
Beauty and the Beast (9 PM, The CW):
This week, Vincent and Cat celebrate Thanksgiving with Cat's dad, to get information about Vincent's missions — but then Gabe and Tori crash the celebration and there's not enough turducken to go around. You don't want to deprive a Beast of turducken, that's a bad scene right there.
Sleepy Hollow (9 PM, Fox):
And here's where the shorter 13-episode first season starts to pay off, as the storyline seems to be moving forward at a brisk clip. Also, check out creepy possessed John Cho! Here's what's afoot: "Ichabod, Abbie, Captain Irving and Jenny Mills (guest star Lyndie Greenwood) join forces and face the Headless Horseman. While staring down this nemesis, Ichabod is shocked by game-changing information about the Horseman's true motive."
The Science of Doctor Who (10 PM, BBC America):
And then there's this, featuring rockstar physicist Brian Cox: "A former rock star and Britain's popular TV physicist, Professor Brian Cox explores the universe of the world's favorite Time Lord when he takes the audience on a journey into the wonderful universe of Doctor Who, with the help of celebrity guests. In this exclusively recorded special from the lecture theatre of the Royal Institution of Great Britain, Brian reveals the science behind the spectacle and explains the physics that allows Doctor Who to travel through space and time. Fun, but filled with real science, it's a special night for Who fans and anyone with a thirst for understanding."
Also on TV tonight: There's a new Packages from Planet X on Disney XD at 9:30 PM. There's a new Castle on ABC at 10 PM.
---
Tuesday:
BBC America is showing a marathon of the Ninth Doctor's stories all day.
Agents of SHIELD (8 PM, ABC):
The long-awaited "Thor cross-over" episode. Here's a clip, just in case you missed it when we ran it earlier today. The most notable thing about this episode is that it was directed by Jonathan Frakes, who may be the subject of a lot of mocking memes for his performance as Riker, but who has also become one of the best directors working in television.