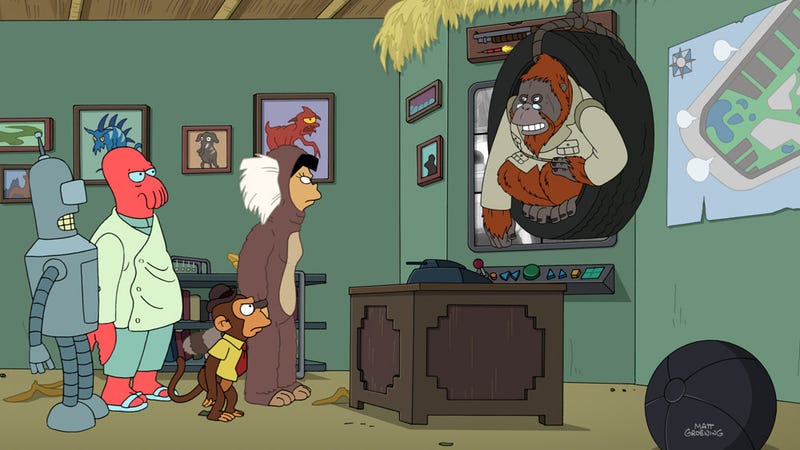 It's going to be tough to let go. But hopefully the final batch of Futurama episodes, starting this week, will help numb the pain of saying farewell to the Planet Express Crew. Meanwhile, there's a superhero "girls' night out," and someone finally explains how sex works. Plus Finn and Jake have a time machine!
Check out clips and details for all of this week's television below...
Top image: Futurama
Today:
Adventure Time (7:30 PM, Cartoon Network):
People liked the "five short graybles" anthology format so much, it's back for a third go-round. And this time around, there's a time machine! "Why are Finn and Jake building a time machine? Can Princess Bubblegum help Cinnamon Bun conquer his fear of the dark?" That's followed by a brand new Regular Show and a new Mad.
House of Anubis: The Touchstone of Ra (9 PM, Teen Nick):
This is a 90-minute special TV movie, which already aired in some other countries. In a nutshell, the students in Anubis House are about to graduate, but first they have to deal with the annoyance of having underclassmen moving in to the house — and the mysteries of Ra's Touchstone, which leads to ultimate power and stuff.
Defiance (9 PM, Syfy):
Check out the first four minutes of this episode! We've had a "razor rain," we've had a faux astronaut in suspended animation, and now we've got a mostly human-specific plague: "A plague affecting only humans strikes Defiance, which Datak takes advantage of. Quentin questions Nicky about what really happened to his mother."
Warehouse 13 (10 PM, Syfy):
We're just a few episodes from the season finale, and no closer to any resolution on the mysteries we glimpsed in the midseason opener — so maybe we'll get some movement this week? Here's what's up: "The agents investigate when a series of mysterious incidents occur at an expensive gated community, and soon discover that someone is using an artifact to get revenge." Is it just me, or is "someone using an artifact to get revenge" a theme lately?
Teen Wolf (10 PM, MTV):
Here's all we know about this week's episode: "Boyd and Cora are under the influence of the full moon; Scott and Derek seek help from an unlikely ally."
---
Tuesday:
Johnny Test/Teen Titans (7:00 PM, Cartoon Network):
Check out some new clips from these episodes, in which Johnny creates a "cerealstalk" out of super-soil that leads him on a mystical adventure in "the land of Marshmallow Berry Cookie Smush." And Robin, Cyborg and Beast Boy go on a "boys' night out," so Raven and Starfire bust Jinx out of prison and have a "girls' night out" in response.
Sex: How it Works (8 PM, National Geographic):
There are "gripping simulations." Are you ready for this?
We've been doing it since we first walked the Earth. It gives us pleasure and it gives us life. But how much do you know about how sex works? Now, National Geographic Channel takes a fascinating look at one of the world's most popular pastimes: sex. Through gripping real-life stories and simulations, we journey from first times to playing the field, and all the way to humankind's ultimate goal, procreation. We'll learn anything and everything you've ever wondered about sex.
Also on TV tonight: Another episode of Bang Goes The Theory on BBC America at 9 PM.
---
Wednesday:
Through the Wormhole with Morgan Freeman (10 PM, Science):
This week's totally unanswerable question: "How do aliens think?": "What kinds of creatures thrive on other planets? Would they resemble beings on Earth, or could life take on new and unexpected forms? Perhaps we can learn how alien minds might work by studying the non-humans around us."
Futurama (10 PM, Cartoon Network):
A special one-hour premiere, kicking off the very last batch of Futurama episodes we're ever likely to see. At least, when we interviewed John DiMaggio (Bender) a little while ago, he seemed pretty resigned this time around. Here's what's up in these two episodes. First: "After being trapped in an alternate two-dimensional universe, the Planet Express crew must face unexpected challenges to daily life." And then: "Fry and Leela go on a romantic vacation but, unbeknownst to them, their secluded, romantic bungalow is actually an alien zoo."