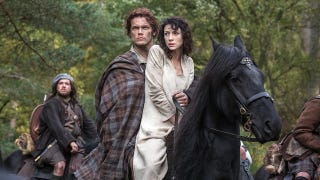 Battlestar Galactica producer Ronald D. Moore returns to television this week with his adaptation of the hit Outlander novels—and you won't want to miss it. Plus, True Blood goes on a drug-fueled search for a dead character, Teen Wolf deals with a mysterious outbreak, and someone is targeting the Candy Kingdom elite on Adventure Time.
Tonight
Gravity Falls (9:30 PM, Disney XD)
After Friday's season premiere, Gravity Falls moves to Mondays.
Dipper's secret journal pages lead him and the gang to the author's hidden bunker where they find themselves face-to-face with a mysterious figure from Gravity Falls' lore.
Teen Wolf (10 PM, MTV)
Some schools have snow days. Beacon Hills High has epidemic days.
A mysterious outbreak takes over the high school.
Under the Dome (10 PM, CBS)
Sure, now we've got a dust storm. Why not?
When Barbie and Sam set out to investigate a mysterious tunnel, a cave-in severs their path back to Chester's Mill. Meanwhile, Julia and Big Jim face off in a struggle for power as a dust storm rages in the town.
Tuesday
The Wil Wheaton Project (10 PM, Syfy)
This week, Wil's talking about the reality LARPing show The Quest.
Wednesday
Extant (10 PM, CBS)
Really, Molly being pregnant and crazy aren't mutually exclusive at this point.
When the validity of Molly's pregnancy comes into question, John begins to doubt her mental state. Meanwhile, Ethan suffers a serious setback, and John and Julie clash over how to care for him. Josh Malina guest stars as Doctor Beck who treats Molly.
Thursday
Teen Titans Go! (6 PM, Cartoon Network)
The forest has far fewer pizza delivery spots.
When Beast Boy loses his ability to change into animals, he realizes that he's lost touch with his wild side. He goes to the forest to reconnect with his inner beast, but Mother Nature isn't as great as he had hoped.
Adventure Time (7 PM, Cartoon Network)
A shadowy figure named Peace Master targets the Candy Kingdom elite.
Defiance (8 PM, Syfy)
Amanda intervenes when Nolan tries to deal with a terrorist in Defiance.
The Quest (8 PM, ABC)
ABC's latest reality show plunges contestants into a world of medieval fantasy:
With the first Paladin banished from Everealm during the premiere episode, ABC's "The Quest" continues with "Tournament for the Queen." News comes from the battlefield that Verlox (Douglas Tait) and his dark army inch ever closer to Saenctum's walls. The Paladins are called on to display their field skills under Queen Ralia's (Susanne Gschwendtner) scrutiny. On horseback, the Paladins must go through a number of tasks to prepare them for battle. Who will crack under the pressure and be sent to the Fates? Who will be the next to be banished from Everealm?
Dominion (9 PM, Syfy)
On the season finale, the final stand between Alex and Gabriel changes everything.
MythBusters (9 PM & 10 PM, Discovery)
This week, in two episodes, the crew tackles sexual attraction myths:
The MythBusters use sexy science to tackle five captivating clichés about the laws of attraction, including whether men really do prefer blondes, if pheromone sprays really work, if bigger boobs equal bigger tips, and whether a man's wealth really woos women.
And traffic myths:
The MythBusters tackle some congestion questions: whether a roundabout (or rotary) is better than a 4-way stop sign, whether it's faster to drive than fly when your trip is under 400 miles, and whether it's better to change lanes or stay put in heavy traffic.
Friday
Legend of Korra (Streaming, Nick.com)
As of last week, The Legend of Korra is online-only. Friday, look out for the new episode, "Long Live the Queen." Fortunately, Asami has some decent prison-busting skills.
Saturday
Outlander (9 PM, Starz)
We're already swooning over Ronald D. Moore's TV adaptation of Diana Gabaldon's hit time-traveling romance series. Looking for something lusty and beautiful shot? Don't miss this week's pilot episode.