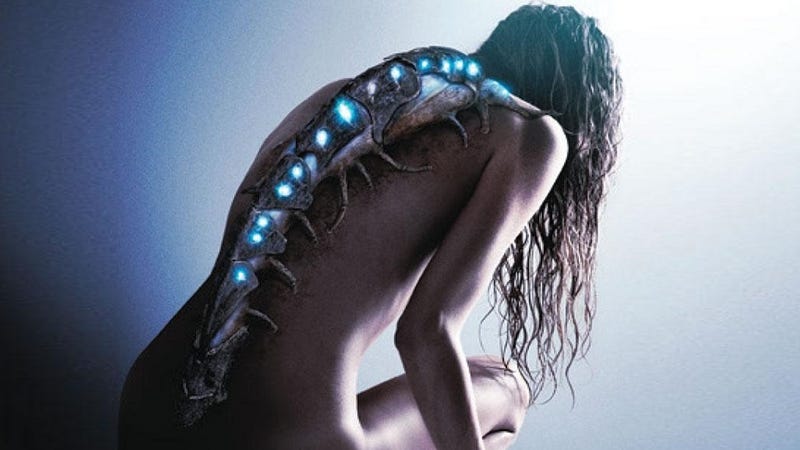 The summer TV season is ramping up, and there are some pretty frickin' great shows coming our way. Falling Skies is back and juicier than ever, and so are Continuum and Teen Wolf. But there's one new show you absolutely can't afford to miss.
Here's our complete guide to the week's television, including tons of clips and details and stuff.
Top image: Falling Skies season 3 poster, via UnrealityTV
Today:
Defiance (9 PM, Syfy):
This show is back after a couple weeks, and we're getting a "bottle" episode that actually sounds pretty fascinating. I only wanted to see you in the razor rain.
Defiance is hit by Razor Rain, forcing its residents to stay indoors – where interesting relationships develop. Irisa's visions lead her to Sukar and the Spirit Riders, where she finds Sukar under the influence of a strange and mysterious force.
Warehouse 13 (10 PM, Syfy):
Oh thank goodness. H.G. is back, and we get to see Jaime without any wacky makeup. And hopefully the H.G./Myka relationship gets some progress! "H.G. returns to the warehouse to help the agents track down an artifact. Meanwhile, a series of mysterious quakes shake the warehouse."
Teen Wolf (10 PM, MTV):
The third season premiere of this show that has, by all accounts, gone from "guilty pleasure" to "actual pleasure." Here's what happens this time around: "Derek and Isaac search for Erica and Boyd."
Revolution (10 PM, NBC):
The season finale! In spite of some of the snarky things I've written about this show, I have a modicum of faith that it'll give us a slam-bang conclusion. Don't let me down, Kripke! Here's what's in store:
MILES AND MONROE FACE-OFF AND THE CORE GROUP SUFFERS ANOTHER BIG LOSS - Life-threatening dangers abound on all sides as the Rebels infiltrate the Tower. Miles' (Billy Burke) leadership abilities and character are sorely tested as well as his feelings for Rachel (Elizabeth Mitchell) and Nora (Danielle Alonso). Aaron's (Zak Orth) genius comes in handy while Tom Neville (Giancarlo Esposito) and Randall Flynn (Colm Feore) bring new meaning to the dark side.

Random thought: remember when the main relationship on this show was Miles and Charlie? Now it's all Miles, Nora and Rachel. When was the last time Miles and Charlie even shared a scene?
Also on TV tonight: A new Scaredy Squirrel on Cartoon Network at 1:30 PM, and then a new Rocket Monkeys on Nickelodeon at 2 PM.
---
Tuesday:
Johnny Test/Teen Titans (7:00 PM, Cartoon Network):
Above, feast your eyes on brand new clips from these episodes, in which the following things happen: "Johnny, Dukey, Susan, Mary, Gil, The General, Mr. Black, Mr. White, Bling Bling, Mr. Mittens, and Albert race super awesome video game go carts to see who wins the Cart Wheelies 7: Greatest Racer in the History of Racing Racer's Cup!" And then: "Robin struggles with whether to build a senior center or a pool, while Beast Boy and Cyborg try to get a pizza for free."
Also on TV tonight: The season premiere of Bang Goes The Theory on BBC America at 9 PM.
---
Wednesday:
Through the Wormhole with Morgan Freeman (10 PM, Science):
This show is back for another round of the big questions, starting out with "When does life begin?" Here's the skinny:
We can all trace our lives back to a beginning. But what defines the beginning? Is it the moment when two cells unite? Or does something have to know it is alive before its life can begin? It is a debate scientists and religious leaders have been battling over for centuries, but with the birth of new technology, scientists have been able to probe the question deeper and deeper. There is groundbreaking evidence showing that inside all of us are traces of cells from our relatives, blurring the lines between the beginning of one life and the end of another. Some scientists believe life doesn't truly begin until we are conscious. But when does consciousness begin? One child psychologist's experiments suggest true consciousness may not begin until the age of five once children become aware of how the world perceives them. Does life begin after we are able to walk and talk? The argument extends beyond human life. Technology is giving birth to new life forms made of nonliving things. One computational neuroscientist is building brains for robots. Can a machine become alive if it can think, feel, and move on its own? Perhaps the only way to know when life begins is by going back to the beginning of life on earth 4 billion years ago. How did non-living chemicals first become alive? And could Earth still give birth to a new life-form: one comprised of all of humanity in a globally connected network.
Also on TV tonight: There's a new Mythbusters on Discovery at 9 PM, followed by a new Big Brain Theory. At 10 PM, USA has a new Psych.
---
Thursday:
The Hero (8 PM, TNT):
If you think this show sounds like Who Wants to be a Superhero? without costumes, then you're basically on the right track, as far as I can tell. Except instead of Stan Lee, you get The Rock:
Dwayne "The Rock" Johnson welcomes nine strangers as they move into an upscale Panamanian penthouse together, each with hopes of being crowned "The Hero." With up to a million dollars at stake, the contestants quickly realize that this will be no ordinary contest, as they must climb and hang from skyscrapers, navigate dark underground bunkers and face tough moral dilemmas. In the end, there can only be one hero, and America will vote on the winner. In the War Room, a sudden change of heart shocks the group. Dwayne "The Rock" Johnson serves as mentor and motivator to the contestants.
Save Me (8 PM, NBC):
Also on TV tonight: Cartoon Network has a new Amazing World of Gumball at 7, followed by a new Annoying Orange at 7:30 PM. At midnight, there's the season finale of Your Pretty Face is Going to Hell on Adult Swim.
In the Flesh (10 PM, BBC America):
This acclaimed BBC zombie series is airing on three consecutive nights on BBC America, and it's our must-watch of the week. We've already praised the hell out of this show, and now here's your chance to see for yourselves. Here's the skinny, according to the BBC: