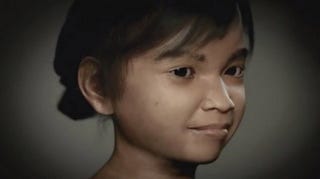 A Dutch organization called Terre des Hommes has identified some 1,000 alleged child-sex predators by luring them in with a computer-animated prepubescent Philippine girl on Internet chat rooms. The online victimization of children, it would appear, is far worse than imagined.
The virtual girl, named Sweetie, was created by TDH Netherlands to notify the public — and police organizations — about how frequently children in developing countries are being victimized online.
For a period of 10 weeks, Sweetie existed only in Internet chat rooms, during which time the bot was approached by more than 20,000 online predators from 71 countries. That amounts to the distressing figure of 285 attempts per day.
The chats took place around the clock in order to cover several time zones. No hacking or back-channel methods were used during the operation — all the information was volunteered by the offenders; Sweetie never made first contact in the chat rooms, instead waiting for predators to initiate the conversation.
The idea is very similar to the one being developed by Spanish researchers — an advanced chatbot called Negobot that poses as a 14-year old girl in chatrooms and social networks.