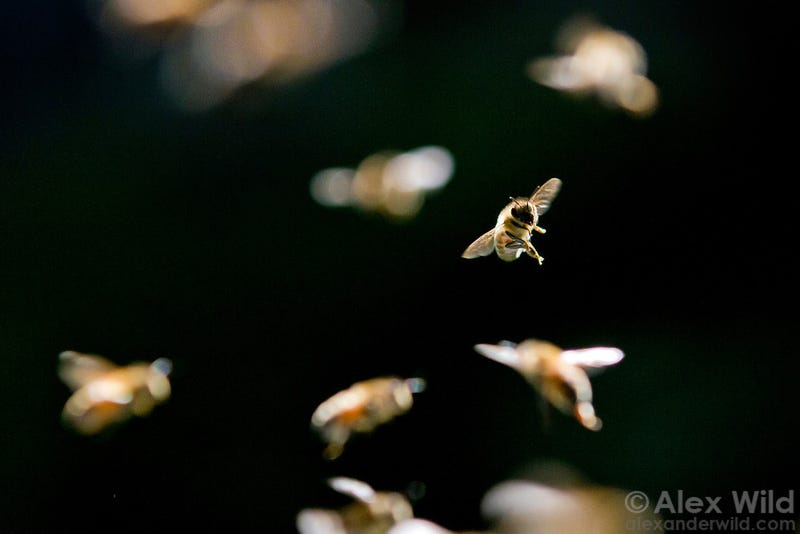 Every so often, a honeybee queen leaves the hive where she was born to found a new colony. Along with thousands of workers, she has to figure out a good place to live. But how does this huge group decide where to locate their new home? This video reveals their process — and sheds light on human consensus-building too.
Photo by Alex Wild
At 30 minutes, this is much longer than your typical "cool animals doing stuff" video on YouTube, and that's because filmmaker Frederick Dunn is giving us an intimate picture of one of the most dangerous times in a colony's life. We begin by watching a huge knot of bees that have formed on a tree — yes, that entire blob is basically solid bees. When a queen builds her new hive, there are several months before new bees are born, and the entire hive often dies out before that happens. So this is a terrifying adventure for the new hive, and they proceed cautiously.
Worker bees have been scouting the nearby area, looking for a nice spot to put their new home. As they return, they do the "waggle dance," an elaborate pantomime that bees do to communicate the locations of flowers and other objects to each other. Scientists recently deciphered this form of communication, discovering that the bee's position indicates the angle of the sun relative to the location, and the intensity of the "waggle" indicates distance. Yes, the bees are actually communicating pretty sophisticated information to each other about where the hive should go.