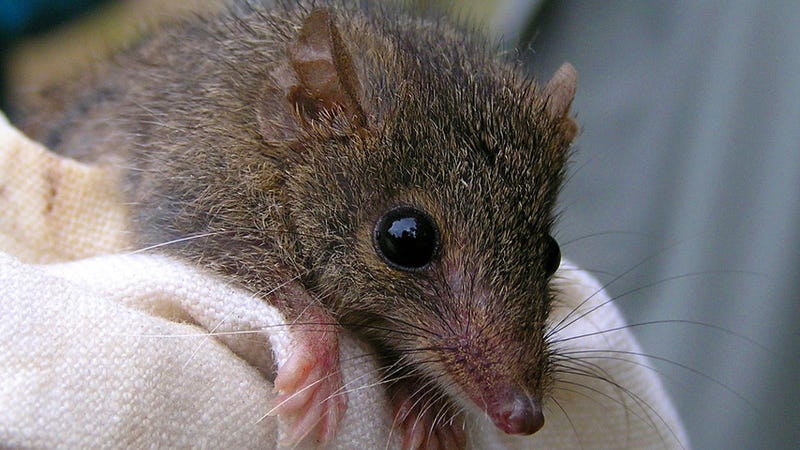 Some animals, like certain insects, spiders, and plants, die immediately after mating. But what about mammals? A new paper shows that the males of certain mouse-like marsupials face imminent death after having sex — an evolved trait that arose on account of extreme promiscuity.
Photo by Mel Williams.
Biologists call it suicidal reproduction, or semelparity (meaning "once to beget") — and it happens when one or both sexes of a species die after doing the nasty. It sounds crazy, and even maladaptive from an evolutionary perspective, but it's a strategy that points to the extreme lengths the selfish gene will go to ensure replication. Suicidal reproduction appears in certain species as a way to put all available resources into maximizing reproduction — albeit at the expense of future life.
A prime example of semelparity in nature is Pacific salmon, who swim to the freshwater streams of their birth, spawn, and promptly die. Female octopi also die soon after giving birth on account of exhaustion, leaving their offspring to fend for themselves. Other examples include butterflies, cicadas, mayflies, and many arachnids, like certain black widow species (e.g., Australia's redback), where the female cannibalizes the male after mating.
Fatal Attraction
As for mammals, it's only been observed in four different genera, all of them closely related. According to the new study, which now appears in PNAS, suicidal sex occurs in certain insect-eating mouse-like marsupials, namely those belonging to the generas Antechinus, Phascogale, Dasykaluta, and Parantechinus.
Unfortunately for the males of these species, their stress hormones shoot through the roof during the breeding season, causing immune system collapse, catastrophic hemorrhaging, infections, and ultimately, death after mating. And this holds true for all males.
So why does this happen? It's a trait that evolved owing to a number of conspiring factors, including limited availability of food, short mating seasons, extreme promiscuity, and most importantly, postcopulatory selection (i.e. sperm competition). Basically, the males of these species pour everything they've got into sperm production — sperm that then battles it out inside the female's reproductive tract.