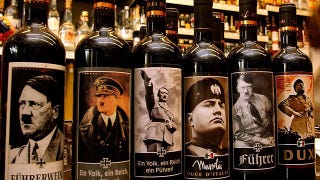 Holy hell, this is in poor taste — both figuratively and probably literally. Italian prosecutors are investigating how bottles of wine adorned with images of Adolf Hitler got on to store shelves. And now human rights organizations are entering into the fray.
The winemaker responsible for this abomination, Andrea Lundardelli, claims the line is all in good historical fun. He says they started the historical series, which also features fascist Italian dictator Benito Mussolini and Soviet chief Joseph Stalin, after it was requested by a customer.
Lundardelli says it has nothing to do with politics or the eulogizing of Hitler.
One of the bottles features Hitler performing the Nazi salute, while others are adorned with the words "Mein Kampf" (my struggle) and "Ein Volk, ein Reich, ein Führer!" (one people, one nation, one leader).
Photo: Claudia Gazzini/AP
Lundardelli says that most buyers are German, and that the label has attracted a cult following among some collectors.
The story is somewhat similar to the Indonesian Nazi cafe whose owner remains incredulous as to why it's making people so angry.