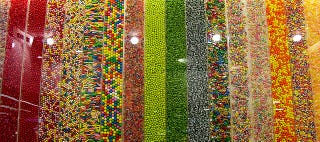 It's that time of year again: The pumpkins are carved, the costumes are all laid out with care, and taking candy from strangers is not only allowed, it's encouraged. But, with all the focus on the tastebuds, just what happens in your brain when you're eating candy?
The Secret Ingredient is Sugar (Also, Dopamine)
When you sink your teeth into that first bite of chocolate and caramel, the sweetness and the texture might be at the front of your mind, but that's not all that's happening. Reward and pleasure signals in the brain are also being triggered. The star of the show is dopamine, the little neurotransmitter that could, associated with pleasure from everything from food to music to runner's high. So far, so good. But what happens when a little bit of sugar turns into a lot? Strange doings, it turns out.