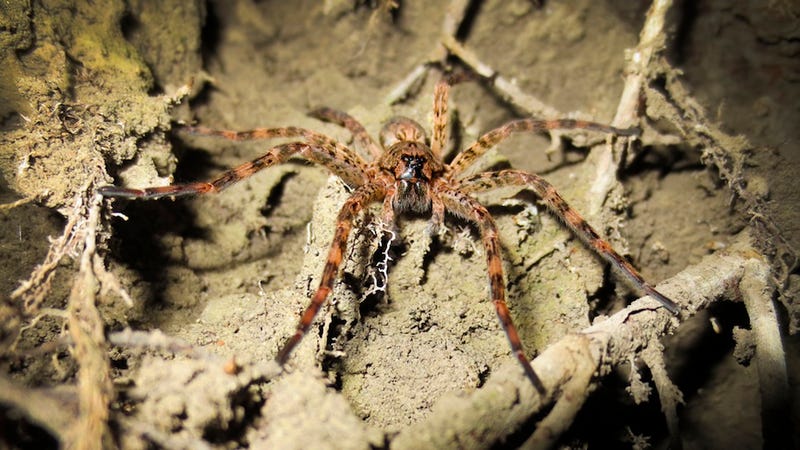 In certain species of spiders and insects, females kill and eat their mates after sex. But the dark fishing spider experiences a very odd twist on this gruesome tale.
Rather than being killed by his mate, a male of this species (Dolomedes tenebrosus) spontaneously dies after sex — while still hanging from the bulbous body of his much larger bride. His death seems linked to the genital disfigurement he experiences from sex, and his dangling body becomes a healthy snack for his mate.
Lead researcher Steven Schwartz, a behavioral ecologist at the University of Nebraska–Lincoln, stumbled upon the spiders' strange behavior by chance. Initially, he says, he was interested in monogyny (male monogamy) and sexual cannibalism. When he checked out the mating behavior of D. tenebrosus, he saw males die after sex, but it didn't appear that the females had anything to do with the deaths. "I initially thought the female would kill the male like in other species," Schwartz tells io9.
Whatever the case, if a male dies after only mating with a single female, it's an example of monogyny, which is relatively rare, having been found in a few other spiders, insects and fish (such as the anglerfish). In the animal kingdom, males will typically mate with as many females as possible; females will also mate with multiple partners, but they are pickier with their mates. In other cases, males will mate less frequently than expected because they instead invest more energy into child rearing.