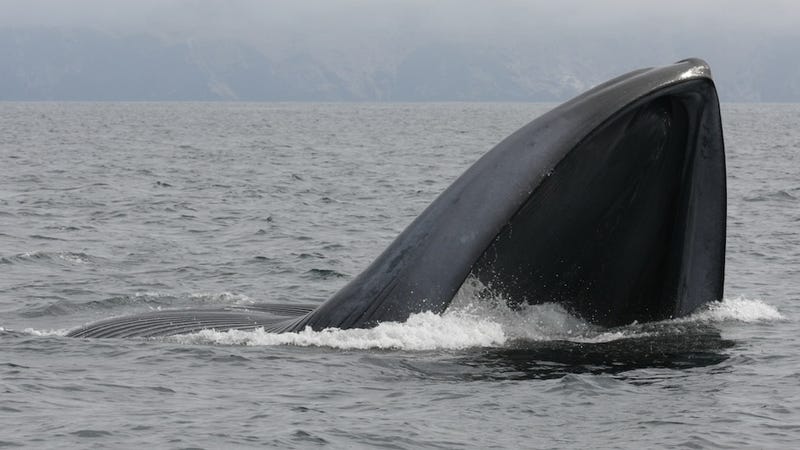 Whales can live longer than humans do, but often there is only one way for researchers to find out the age of a particular whale. They have to go deep inside the whales' ears.
Like other mammals, whales produce earwax, which stays in their ears for their whole lives. Research now shows these waxy buildups hold clues to a whale's entire chemical and hormonal history, and can help reveal how the lives of these giants have changed over the last century.
Starting from birth, many baleen whale species accumulate loads of earwax that develop into enormous wads of lipids (fatty acids), waxes and keratin known as "earplugs." Unlike the human analog, however, these earplugs don't block out sound. "If anything, the leading science suggests that earplugs might help the whales funnel external sound to the eardrum," Baylor University biologist Stephen Trumble told io9.
The earplugs form in alternating light- and dark-colored layers called laminae. Importantly, the laminae grow in regular intervals, which may be different for each whale species — humpback whales, for example, seem to produce a new lamina each year.
The laminae can be used as a kind of tree ring for the whale, revealing both how long it lived and what its environment was like. "As you go toward the center of the earplug, you go back in time," said Sascha Usenko, a Baylor environmental scientist. In fact, scientists have used the earplugs to estimate whale ages — postmortem, as they cannot be extracted while the animal is alive — for decades, Trumble added.
Earplugs and the Environment
Over the last century, the environment has changed drastically for whales (and other marine mammals), as they must now deal with increased anthropogenic influences, including environmental noise, ship strikes and pollution. A long-standing question is how the animals are dealing with these changes. Are the whales now exposed to more toxic chemicals throughout their lives? And are they more stressed than they were in the past?