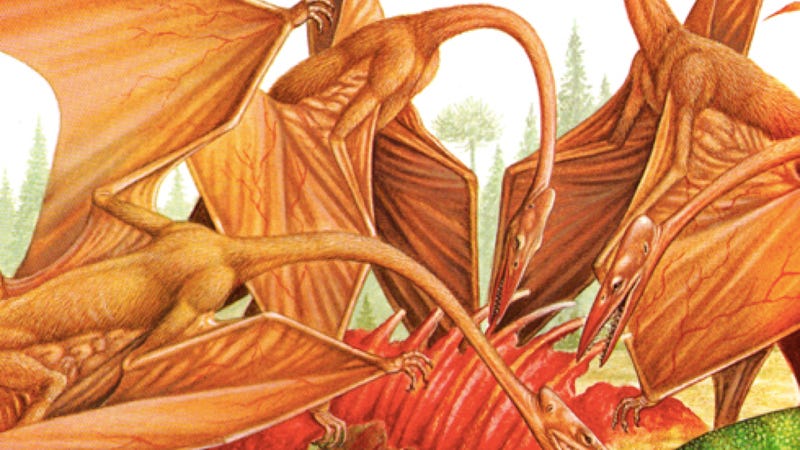 Quetzalcoatlus is an azhdarchid pterosaur, an enormous Cretaceous-era animal with a 10-meter wingspan. And for decades, most people believed it looked like this blisteringly Satanic creature — despite all evidence to the contrary. How did so many people get it so wrong?
Illustration by Richard Orr
Over at Tetrapod Zoology, paleontologist Darren Naish gets to the bottom of the demonic Quetzalcoatlus mystery.
Naish begins:
By now, it's reasonably well known to interested people what azhdarchid pterosaurs looked like when alive. The answer: sort of like a cross between a giraffe and a stork, though with all of this being over-ridden by uniquely pterosaurian weirdness; membranous wings supported by giant fingers, a large cranial crest, plantigrade feet, and so on.
Here's a picture of an azhdarchid pterosaur, using the latest scientific evidence for what they look like.
Illustration by Mark Witton
But of course this isn't what you typically see in drawings of these admittedly fearsome beasts. Instead, you see what Naish calls a paleoart meme — an artistic misrepresentation of an ancient animal, that gets perpetuated across many other artworks until everybody thinks they know what the damn thing looks like. Except they don't. Case in point: for a long time, artists have drawn azhdarchid pterosaurs to look like leather-winged demons of the night.