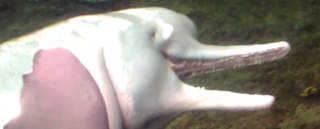 Did I stutter? This one does exactly what is says on the tin, folks. Hit the jump for the clip, if you dare, then we'll discuss what we can learn from the footage. Because you're damn right there's a teaching moment to be had here.
All right, so between YouTuber alexandros malikides's choice of music and the look of sheer, open-mouthed enthusiasm that the dolphin repeatedly directs at the camera, the obvious takeaway is that this clip is actually a little distressing. But there's actually a lot to discuss here, so let's unpack.
The fact is, as most anyone with a leg and a male dog will tell you, that animals masturbate. What you may not realize is just how many of them do it (males and females alike), not to mention how creative they can get with the whole process.