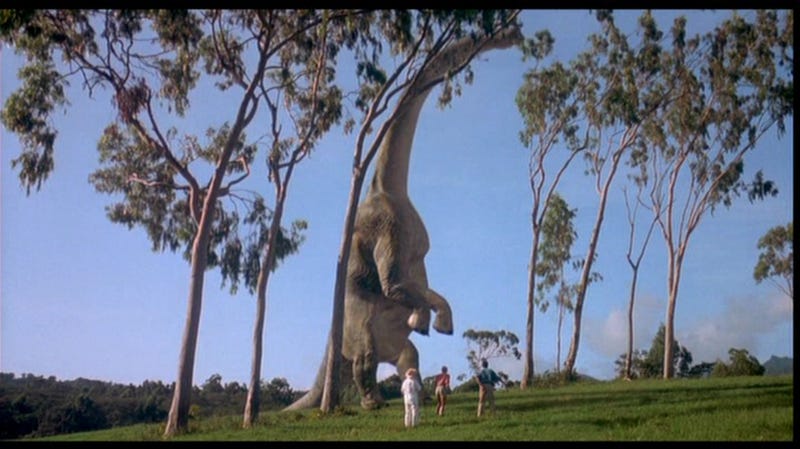 Sauropods were some of the most successful dinosaurs that ever lived, partly thanks to the way they used their long necks to reach food. But a new study of ostrich necks reveals that what we thought we knew about the evolution of these dinosaurs was wrong.
After they evolved in the late Triassic, sauropods spread across all the continents, in a dazzling array of species and groups. Their defining characteristics include their incredible size (they were larger than all other types of dinosaurs), their long tails, their trunk-like legs and, of course, their long necks.
But despite decades of research, there's still a lot we don't know about sauropods. And according to this new study, the dinosaurs' long necks weren't as flexible as previous computer models suggest— a finding with important implications for the behemoths' biology and ecology.
Vertical or Horizontal?
Interestingly, a major point of contention among researchers has been just how the giants used their necks to get food. Some scientists think that sauropods held their heads up high and easily chowed down on leaves from the tallest of trees — this implies that their necks had to be very flexible to allow them to drink water from the ground. Recently, a team of scientists suggested that the dinosaurs have a swan-like S-curve to their necks, after looking at the natural neck posture of a number of extant animals, including cats, crocodiles and birds.
But computer models say otherwise. In 1999, reconstructions of the necks of Diplodocus and Apatosaurus suggested the dinosaurs held their necks horizontally and had less flexibility, meaning that they likely on fed on plant matter closer to the ground (small trees and brushes). This theory has been so widely accepted for a long time that it's been featured in a number of places, including the BBC's "Walking with Dinosaurs" and installations at New York City's American Museum of Natural History.