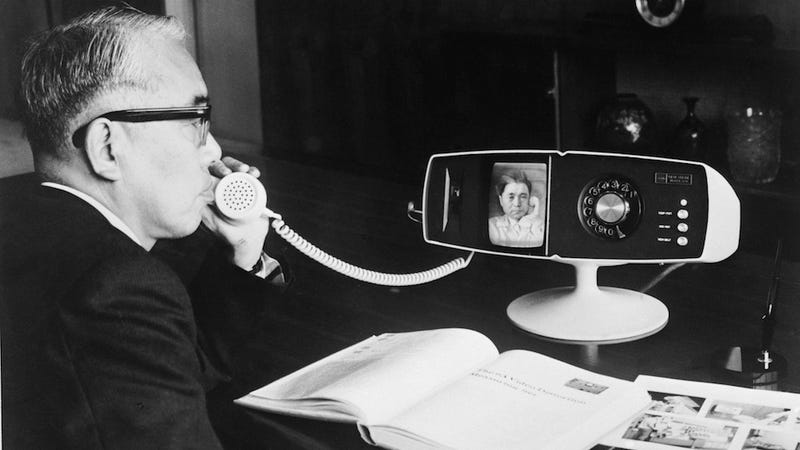 Once upon a time, the videophone was a futuristic technology on par with flying cars. It symbolized futuristic communication. Sadly, the reality of FaceTime and Skype didn't quite measure up to these retro futuristic concepts.
Toshiba's Model 500 View Phone, from the late 1960s
Pictured above.
(via Keystone/Hulton Archive/Getty Images)
Telephonoscope, 1878
This drawing of a fictional device named "Edison's Telephonoscope" was made by the famous French-born British cartoonist George du Maurier for Punch Magazine in December 1878. The text says:
Every evening, before going to bed, Pater- and Materfamilias set up an electric camera-obscura over their bedroom mantel-piece, and gladden their eyes with the sight of their children at the Antipodes, and converse gaily with them through the wire.
By the way, the aspect ratio of the screen (2.7:1) is almost the same as used in the Cinerama (1952-1972), M-G-M Camera-65 (1957-1966) and exactly the same as Ultra Panavision (1963-1968).
(via Wikimedia Commons/George du Maurier)
Videotelephone In The Year 2000, early 1900s
From the series In The Year 2000, by Jean-Marc Côté and other artists, made in 1899, 1900, 1901 and 1910. The other postcards and paper cards from cigarette and cigar boxes are available on this Wikimedia Commons page. There are at least 87 of them.