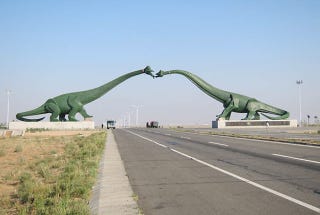 No animal deserves a monument more than a dinosaur. That's why some of the weirdest, biggest, and most awesome (in the original sense of the word) statues in the world are devoted to these extinct beasts. Here are some of the most mind-boggling.
Kissing dinosaurs, Erenhot, Inner Mongolia Autonomous Region
In the border town between Mongolia and China there are two Brontosauruses are kissing above the highway. You can see more of the weirdest Chinese monuments here.