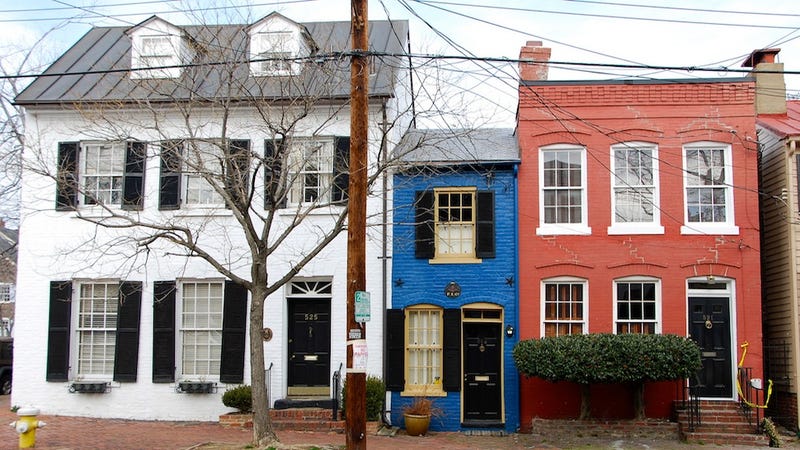 These houses are perfect examples of making do with what you've got — even if it's a really, really narrow plot of land.
The Hollensbury Spite House in Alexandria, Virginia
The 7 ft (2.1 m) wide house was built in 1830.
(via Patricia Barden and Adam Fagen)
The 10.4 ft (3.16 m) wide Skinny House in the North End of Boston, Massachusetts
(Photos by John Stephen Dwyer 1 - 2)
The Gap House on an eight-foot-wide (2.5 m) site by Pitman Tozer Architects, London, 2007
(Photos by Nick Kane, via Pitman Tozer Architects)
Lucky Drops, by Yasuhiro Yamashita, Atelier Tekuto, Tokyo, Japan, 2005
It is a long, narrow trapezoid with a lower base of 3.2m as the frontage, height of 29.3m as the depth, and upper base of 0.7m at the very end of the site. – according to the architect's website.
(via Atelier Tekuto)
A 12.5 ft (3.8 m) wide little house on West 46th Street in New York City
(via Scouting New York)
Silver House, by Boyarsky Murphy Architects, London
The street frontage is less than 10 ft (3 m) wide, but it's widest room is only 25 ft (7.5 m) broad.
(via Boyarsky Murphy)
The 47 inch wide Wedge in Milport, on the island of Great Cumbrae in Scotland, United Kingdom
(via Bruce McAdam and Google Maps)
City Lights, by Sculp(IT) in Antwerpen, Belgium, 2006
The almost 8 feet wide (2.4 m) wide house made from shipping containers has four floors for various uses: downstairs for work, dining on the first, relaxing on second, sleeping on third, and the roof is for enjoying the view from the giant bathtub.