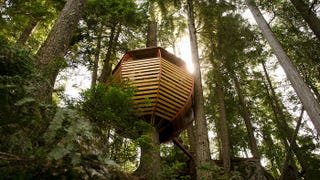 When you're tired of city life — or just tired of life on the ground — there's nothing more wonderful than scampering up a tree to your bedroom. A few lucky people among us actually get to do it. Here are the places they go: the most beautiful and bizarre tree houses in the world.
Teahouse Tetsu, designed by Terunobu Fujimori to the Kiyharu Shirakaba Museum, Japan
It stands on a cypress trunk, among cherry blossom trees.
(via RMIT)
The Naha Harbor Diner in Okinawa, Japan, 20 ft (6 m) above the ground on a Gajumaru tree.
It's accessible by both a spiral stairway and an elevator built inside the trunk.
(via Where is it and Prafulla)
When a treehouse meets an old Boeing 727: The Hotel Costa Verde in Costa Rica
An 1965 Boeing is standing on a 50-foot pedestal in the middle of the Costa Rican jungle and serving as a luxurious hotel with hand-carved furniture items and air-conditioned bedrooms. It looks really unique, but there are some other buildings made out of old airplanes.