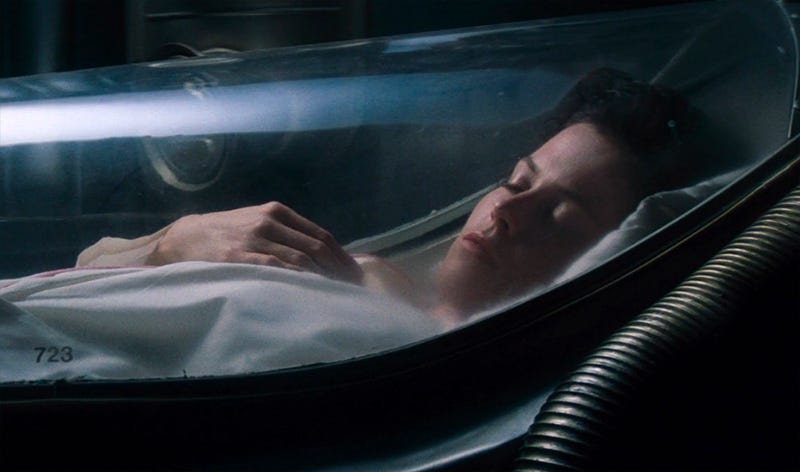 Sorry, Han Solo and Mr. Sulu. Based on everything we know right now, you'll never be able to punch a button and travel through "hyperspace," or go to warp speed. Traveling faster than light is almost certainly impossible. According to scientists, the only way you could personally visit other stars is by taking a long, long nap.

The idea of cryogenic suspension, or cryosleep, has always been one of the markers of "hard" science fiction. Instead of hand-waving some way to cheat Einstein, movies like Alien and authors like Alastair Reynolds have shown people going to sleep and waking up months, years, or even centuries later, in another part of the universe.
I've always been a little bit skeptical about the idea of being able to freeze someone for months or years, or any other ways to slow metabolic functions enough to allow a person to wake up—no older and none the worse for wear—years later. It's a pretty huge leap from what we know about hibernation among mammals on Earth. But after talking to a ton of scientists and science fiction authors, including Reynolds himself, I'm convinced: Cryosleep is the only hope we have of making an interstellar journey in a single liftetime.
Faster-than-light travel is a dream
Cryosleep involves huge challenges that we have no idea how to get around—but we already know that traveling faster-than-light (FTL) is plain impossible.
"Based on what we now know, FTL is either impossible, or would require energies that are flat out ridiculous. Storing brains for a long period of time is merely very, very hard," said Terry Johnson, a biology professor at UC Berkeley who wrote the Ask a Biogeek column for io9 and also co-wrote the book How to Defeat Your Own Clone.
"We cannot even come up with a physically consistent theory for how faster than light travel would work, much less conceive of engineering such a thing," said Karl Schroeder, author of Lockstep, a novel about a futuristic civilization that uses cryogenic suspension to travel. "FTL is, in our universe as we understand it today, a complete fantasy rather than merely an 'as-yet undeveloped technology.'"
Even a tantalizing idea such as the Alcubierre drive, a concept for a faster-than-light engine that NASA has been researching for years, "requires an impossible substance with negative mass to run it," said Schroeder.