Long before there were bullet trains and high-speed light rail systems, people experimented with creating super-streamlined trains that could whisk people across the country in Googie splendor. In some alternate universe, these streamlined trains of the 1930s, 1940s and 1950s are still in service.
We already showed you some strange railway systems and monorail systems — now check out some of the most amazing streamlined train designs from the mid-20th century.
The German Schienenzeppelin (means Rail Zeppelin), the prop-driven V12 locomotive with a 46-liter BMW engine, developed by Franz Kruckenberg in 1929. In the summer of 1931 it reached the speed of 143 mph (230.2 kmh) in the summer of 1931.
Only one prototype was built, which was dismantled in 1939.
(via Wikimedia Commons/German Federal Archives)
The Bennie Railway, a propeller-powered monorail, would have linked London to Paris. A prototype ran over a 390 ft (120 m) line at Milngavie, Scotland during the 1930s, but George Bennie, the inventor, went bankrupt in 1937 and the line was demolished in the 1950s.
Scottish inventor George Bennie had a dream. Where trains couldn't link destinations separated by water, grand railways would stretch through the skies, guiding propeller-powered planes from city to city. Technically, the Bennie Railplane isn't actually a monorail; to the contrary, it requires both a top and bottom rail to guide its propeller-powered planes. But like a monorail, the Railplane was meant to be a transit system deliberately separated from the ground-based one. Feeling that carrying freight and passengers along the same rails was inefficient, Bennie proposed these suspended rails that would carry passenger-only planes. He also thought it would be a brilliant way to carry passengers across the English Channel, making commutes from London to Paris fast and easy.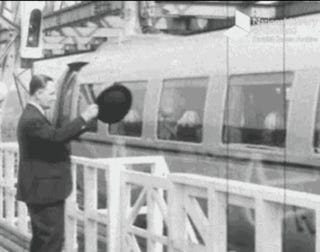 (via io9 and J. A. Hampton/Topical Press Agency/Getty Images)