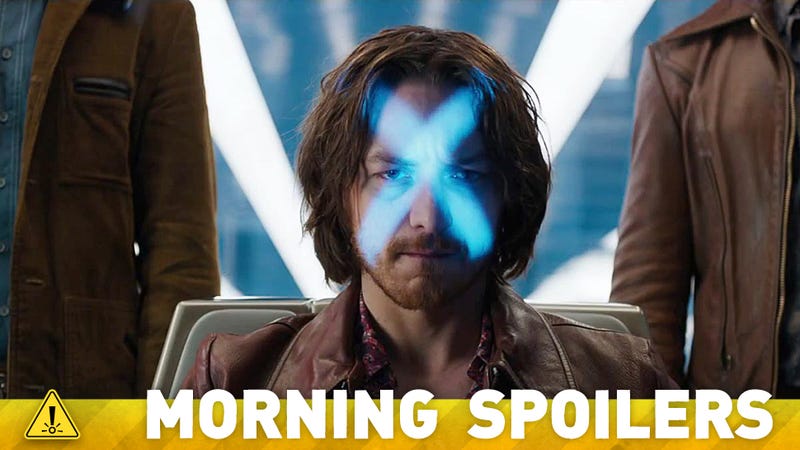 Seriously, this is the last mutant you thought they'd ever bring back. Meanwhile, Chris Evans explains what he's learned about Captain America. Check out a new piece of Star Wars: Rebels concept art. Plus, check out Hugh Jackman sporting a mullet in Neill Blompkamp's Chappie. Spoilers now!
Top image: X-Men: Days of Future Past
Captain America: The Winter Soldier
We've been hearing forever that this film in the the "70s thriller" mold, and now Chris Evans offers up his theory as to why this genre works for Captain America:
The brothers said right from the start that we were really doing a '70s thriller. And I think just Cap's abilities mesh well with that kind of genre. I mean, his powers are very meat and potatoes. Faster. Stronger. Punch. Kick. That works with those types of movies. It would be more difficult to put, say, Hulk in that kind of context.
In the same Empire interview, Evans says that the film shows Steve trying to find his place in the modern world. He also described what he thinks sets Steve apart:
To be a good man is difficult. To be the best man you can be is even harder. Even though he doesn't choose to wear his baggage on his sleeve, I think that's his skill set. He doesn't moan. There is a depth to him. There are always new things to find.
---
X-Men: Days of Future Past
We haven't seen Toad since the first X-Men movie, when Halle Berry showed him what happens to toads struck by lightning. Now it turns out Evan Joingkeit will play a younger version of Toad in this prequel/sequel. He did say that his Toad will look very different to the one played by Ray Park in the first film:
The aesthetics of the character are much different, and I'm not really allowed to say a whole lot more than that. . . . It's darker. I would say it's a darker tone.
---
Chappie
Hugh Jackman posted a photo of himself on Instagram, with this caption:
Day 1 on Chappie! Vincent is born, rocking the mullet. Working with Neill Blomkamp in SA. This film is rad.
Little is known about Neill Blomkamp's upcoming comedy, other than that it centers on the eponymous robot, who gets kidnapped by two criminals during birth and becomes the adopted son of a strange family. We also know that Sharlto Copley will voice Chappie. But of the rest of the cast – Jackman, Sigourney Weaver, Dev Patel, Yo-Landi Vi$$er and Ninja of the South African rap rave "zef" crew Die Antwoord – have not had their characters revealed. Perhaps Weaver and Jackman play the adopted parents? [Moviefone]
---
The Amazing Spider-Man 2
The latest Daily Bugle tumblr post both wraps up what happened to Dr, Curt Connors after the first movie and may set up his alter ego for either the Sinister Six movie or maybe, given that we know Ravenscroft is in the sequel, a cameo there. Here's the text:
By Joy Mercado

The trial of Dr. Curt Connors came to an end as the former geneticist for Oscorp Industries was found guilty on all twenty counts for which he was indicted, including the murder of NYPD Captain George Stacy.

Connors and his attorney, Anne Weying, were unable to convince the jury that he was not responsible for his deadly actions while transformed. His defense that he only injected himself with the serum that changed him into the Lizard to prevent Oscorp Industries from experimenting on innocent civilians did not sway the jury.

Next stop: Rikers. But even that is controversial. Ravencroft Institute for the Criminally Insane has said their facility is better served for housing and studying a prisoner such as Connors, but the judge has yet to rule on where Curt Connors will spend what is likely to be the rest of his life.
And here are three international posters. [Coming Soon]
---
The Cobbler
Here's a photo of Adam Sandler in The Cobbler, in which he plays a shoe-repair guy who develops the ability to walk in other people's shoes (i.e., live their experiences) for a period of time. [EW via First Showing]
---
The LEGO Movie
Here's the first TV spot. [Coming Soon]
---
RoboCop
Here are two international trailers. [Coming Soon]
---
Doctor Who
The BBC released the first set photo of Peter Capaldi, which has him still in 11's clothes. (We featured it in yesterday's 2014 TV preview, but it's below in case you missed it.) There were also some new interviews. Here's what Capaldi said when got to his first filming: