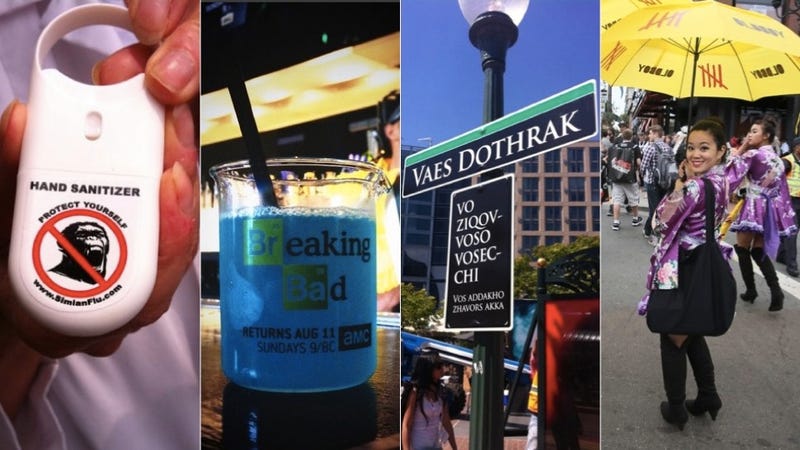 The bigger Comic-Con gets, the more the marketing madness spreads across the whole city of San Diego. And this year, the promo craziness was everywhere. Some good, and some really freaking disgusting. So we picked through the swag and the handouts and the interactive experiences, to find the very best, and the very worst of Comic-Con advertising.
Badvertising:
Oldboy Girls
Film District had a host of beautiful young ladies, ready to escort you under their yellow umbrellas, as a on-the-ground marketing campaign for Spike Lee's Oldboy remake. If you've seen the original movie, then you should be just as horribly skeeved out as we are. Which was probably exactly how this PR stunt was supposed to make you feel — so maybe one point Film District. But we're still staying the hell away from those umbrellas.
More images over at Film School Rejects (thanks for pointing this out to us!)
Trask Trucker Hats
Call us crazy, but we're not sure if the super scientific Trask Industries would be found on a purple trucker hat. Just saying. Now on sale for $17.00 on eBay.
Urinal Ad
We can't verify if this actually was at Comic-Con but twitter user badtopherbad snapped and posted this ad. Which just kind of makes us frown. If this is real, then OUYA is a gaming console, but instead we're thinking about dicks. So mission accomplished, OUYA. We guess.
Random Corporate Superheroes
We're not hating on the hard working street team folks (everybody has to make a living) but by the end of the Convention the large school of faceless, corporate superheroes handing out pamphlets and coupons just kind of blended into a sea of nothingness.
Image via MGO and MoviesOnDemand.
Godzilla Capes? Revolution Capes? The Following Capes?
Yay a Revolution Cape — just like in Revolution! Oh, wait. Each Comic-Con bag came with a fold out cape, and at first we thought, "oh how adorable!" But for a place that prides itself on nitpicking comic book irregularities, we're a little confused as to how the Godzilla cape works. Maybe it's supposed to be a highly flammable apron.
Thank you to our cape models Silas Lesnick and Sean OConnell.
Walking What?
This was an ad for the Walking Dead Escape which is a great obstacle course for zombie fleeing enthusiasts. Or at least we think that's what this giant balloon-adorned crash scene is advertising. Later on this was coupled by strange anti-zombie protesting "The Undead want you Dead" which, what? The whole thing was muddled.
Radvertising
Extreme Shire Makeover
We love, love, love it when the San Diego locals embrace the con in creative new ways (other than just jacking up the prices). The Tilted Kilt rebranded itself as the Pub in the Shire. Complete with shoe polish paintings of the shire, and "The Tilted Kilt" in LOTR letters. Very cute.
Cosmos Balloons
Neil deGrasse Tyson's new Cosmos series unfurled a batch of luminescent balloon planets, which glowed with great beauty at night. It captured the exact kind of wonder this show is trying to generate.