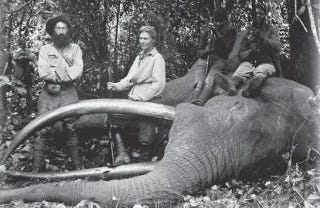 Delia Akeley is probably best remembered as a "wife-of," having spent two decades married to famed taxidermist and conservationist Carl Akeley. But Delia was a fascinating adventurer in her own right, an early primatologist, anthropologist studying the pygmy peoples of Belgian Congo, and skilled museum-backed hunter—the woman who felled a record-breaking bull elephant for the American Museum of Natural History.
Delia Akeley was born Delia Denning in 1875, the youngest of nine children growing up on a farm near Beaver Dam, Wisconsin. Throughout her life, Delia was primarily known as "Mickie" for her hot temper, which was associated with her Irish heritage, and even as a child she was a hellion, dumping dirt in the buckets of boys who were hauling water water from the community well and getting even with a crew of taunting brickyard workers by stomping over a day's worth of drying bricks, ruining the entire set. At age 13, she ran away from home and made her way to Milwaukee where she married Arthur Reiss, a barber, when she was likely just 14 years old. It was perhaps through Reiss that she met the man who would become her second husband and who would open the door to her scientific future, Carl Akeley.
The Taxidermist's Assistant
Carl Akeley is often called the father of modern taxidermy, a man whose carefully observed and rendered work still fills the halls of natural history museums. Early in his career, he worked for the naturalist and geologist Henry Ward, mounting exotic specimens that Ward collected from all over the world. But the most famous work of his pre-museum career was for showman PT Barnum, who commissioned Ward's Natural Science to mount Jumbo, the famed African Bush Elephant who had been exhibited in the London Zoo and then at Madison Square Garden as part of Barnum & Bailey Circus. Akeley and his mentor, William Critchley, stretched and mounted the deceased elephant's hide, so that Jumbo was larger in death than he ever had been in life. Eventually, though, Akeley was directed to work better suited to his naturalist inclinations, taking a gig with the Milwaukee Public Museum.
Carl Akeley may have met Delia during a hunting trip with Arthur Reiss, and she quickly became smitten by the artistry of Akeley's work. Much taxidermy of the day was a far cry from the lifelike displays in modern halls of mammals, stuffed with straw or sawdust. Akeley's hides were mounted on sculpted forms, made to imitate the form and body language they had held in life. Even before they married in 1902, Delia became Carl's assistant, an invaluable aid at a time when he could not afford to hire labor. Carl Akeley believed that taxidermy animals should be displayed not just on their own, but in artificial habitats matching the animal's natural environment. Delia helped him create these environments, casting thousands of leaves in beeswax for his famous piece, "The Four Seasons," a diorama that presented deer in spring, summer, fall, and winter. The piece was sold to the Chicago Field Museum (Carl Akeley had long since separated from the Milwaukee Public Museum) and solidified Carl's prominence as a taxidermist.
In Brightest Africa
In 1896, the Chicago Field Museum funded its first African collecting expedition, sending staffers to hunt animals to bring back as specimens for the museum. Carl Akeley went on the trip—during which he famously killed an attacking leopard by shoving his fist in the leopard's mouth, choking it while strangling it with his free hand. Delia was jealous, but she would get to see the plains of Kenya first-hand when she accompanied Carl on the Field Museum's second collecting trip in 1905.