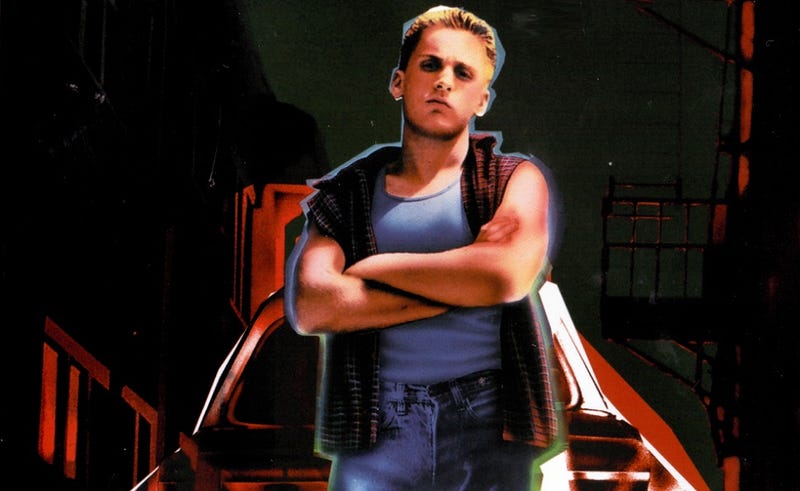 Repo Man came out 30 years ago, but it remains one of the weirdest, and most beloved, cult movies of all time. But how did this genre-smashing comedy, about a punk kid who starts repossessing cars only to find one very special car, ever get made in the first place? Join us on a look inside the strange journey of Repo Man.
Writing/Conception
Alex Cox, fresh out of UCLA, had a couple of projects fail to get off the ground. He was hired to write a script for United Artists about a WWI deserter but it was deemed "too English, too expensive and too anti-war." Adrian Lyne was somewhat interested in another one of his scripts but went off to direct Flashdance instead. It was at this point that Cox ran into two UCLA buddies – Jonathan Wacks and Peter McCarthy – who now had a small production company in Venice, California that mostly made commercials. He convinced them to give feature films another shot and they asked him to deliver a script. The first script he gave them – The Hot Club – was about nuclear war survivors in the early 2000s, but it was rejected as too expensive. The next one was Repo Man.
The script was based on some of Cox's own Los Angeles experiences driving around with his neighbor Mark Lewis who was an actual car repossessor. Cox even spent some time working as Lewis' apprentice, driving repo'd cars back to the yard. The script also incorporated elements of a short screenplay called Leather Rubbernecks that was written by Cox's frequent collaborator Dick Rude (who also plays Duke in the film). A few chunks of the film – mainly monologues like Tracey Walters' beloved 'plate of shrimp' speech – were added later, written on the fly by Cox as material for actors auditioning for the movie to read. The actors liked these monologues so much that they demanded the speeches be retained in the shooting script.
Looking to make the project more attractive to potential investors, Cox packaged the script with a four page comic book treatment (which can be found here). These materials drew the attention of former Monkee Michael Nesmith, who agreed to produce the film and take it to Universal Pictures. Bob Rehme at Universal greenlit the picture but, unfortunately for Cox and company, his regime was replaced partway through production. The new guard had considerably less confidence in the film and basically sabotaged its initial release.
Universal had a very on again off again relationship with the movie. Michael Nesmith had to agree to what's called a negative pickup, meaning that he had to finance the film and they would agree to buy once it was done.
Casting
As is often the case with small productions, a lot of the casting decisions were made through personal connections. Cox cast Charles Hopkins, his former boss from the UCLA Film Archive, as supermarket manager Mr. Humphries. He'd met Sy Richardson at UCLA and called him to audition for the bit part of the angry man who storms into the repo office with his girlfriend. Cox thought he was a powerful actor and gave him the larger role of Lite instead. Michael Nesmith sent Tracey Walter (the mystic hobo Miller)and Miguel Sandoval (Archie the punk) to Cox, having worked with them on Timerider: The Adventure of Lyle Swann (on which Nesmith was co-writer and producer). One of Victoria Thomas' friends introduced her to Emilio Estevez after his manager Dolores Robinson refused to give her the time of day.
Del Zamora describes the process, in an American Cinematheque Q&A from Sept 2010:
Actually it was a student film first at UCLA. Alex was there on a Fulbright scholarship from Oxford... I think it was something that was percolating with him for a while. I will tell you that I auditioned for it when it was a student film. Nine months later they called me again, and again after four months I still thought we were going to do it as a student film. I said, "We'll shoot on the weekends," and he laughed. He said, "We're actually shooting it with Universal Pictures and you're officially the first one cast, but I do know that I have Emilio and Harry Dean Stanton." So I hung up the phone and I promptly quit the play that I was in.
Fox Harris – the film's lobotomized, irradiated scientist J. Frank Parnell – was already on Cox's radar, since he was the only actor who was nice to the filmmaker when he worked as a guard/caretaker at the Actor's Studio in Los Angeles. When Harry Dean Stanton brought Harris up as a possibility for Parnell, Cox jumped on the idea. However, while Harris was excellent in the movie, it's hard not to wonder how Lance Henriksen – the runner up choice for Parnell - would have done.
Zander Schloss, memorable in the film as Otto's nerdy supermarket colleague Kevin, was originally hired as a production assistant. Schloss was desperate to play Kevin but was briefly derailed by the producers' insistence on hiring Chris Penn (a friend of Estevez's) for the role. Penn's more over-the-top Animal House comedic style didn't mesh well with the performances around him and Nesmith agreed to try reshoots with Schloss. This decision was supported by casting director Victoria Thomas, whose sympathies had been aroused somewhat by the sight of the hapless Schloss sobbing in public over the decision to go with Penn.
Several actors were under consideration for the role of Bud. The possibility of Lee Ving from the punk band Fear (whose music is on the soundtrack) was batted around for a while. Dennis Hopper was in the running, but the limited budget and rumors about his drug-fueled misbehavior ensured that this was not to happen. The studio wanted Mick Jagger — which, in all likelihood, was even more of a fantasy. Harry Dean Stanton turned out to be the perfect choice. Tod Davies, a friend of Cox's, helped convince him by describing Stanton as having the ideal "great remnant of the Old West/cadaver look." Cox, however, didn't need much convincing, having loved Stanton's work in Two Lane Blacktop and Landon Mills.
Del Zamora (one of the Rodriguez brothers in the film) also brought Olivia Barash into the fold. At the American Cinematheque Q&A in 2010, Barash said her agent told her not to try out for this movie by no-name people, but "I was rebellious, and I went." Her agent kept asking her not to do the movie, because it was "never going to do anything."
Also key to the film's success was the distinctive work of DP Robby Muller, a Dutch cinematographer who had worked on numerous European productions. Nesmith asked Cox to come up with his dream choice and promised to find the money to hire whoever it was. Cox thought of Muller's stunning car scenes in Wim Wenders' The American Friend and suggested him. Muller had only worked on one American film before and hadn't enjoyed the experience but, upon receipt of Cox's script, liked it so much that he agreed to sign on.
Influences
The smoking boots left behind when the motorcycle cop is zapped by the Malibu's glowing cargo are a visual reference to Timerider: The Adventure of Lyle Swann.
Miller's oft-quoted asides about John Wayne being gay were based on stories told to Cox by a Venice eccentric named Swatty. He worked for a glass company and insisted that he'd installed two way mirrors in Wayne's home and that the star had answered the door in a dress. Both these tidbits were incorporated into Miller's dialogue.
The sunglasses worn by Emilio in the Camaro-stealing scene are an homage to Kings of the Road, one of Robby Muller's earlier films.
The aesthetic of the film is influenced by the underground comics of the 60s and 70s, particularly the work of Robert Crumb and Gilbert Shelton. The Rodriguez brothers are modeled on Shelton's Fabulous Furry Freak brothers.
The L.A. punk-rock scene, which Cox was interested in at the time, was also an obvious influence on the aesthetic, philosophy and general anarchic tone of the film. Dick Rude's contribution to the script via "Leather Rubbernecks" also factored into this, because Rude was deeply immersed in the punk milieu.
The cars
Cox picked the now-iconic 1964 Chevy Malibu as J. Frank Parnell's Macguffin-toting transportation because he liked the 'boxy aspect' of the car and felt that it looked sinister. The '73 Impala driven by the repo men originally belonged to the casting director, and the production bought it from her for the movie. Cox chose the AMC Matador as the government agents' ride "for its weird shape and for its name." Several of the other cars seen in the film were personal vehicles driven to the set by cast and crew.