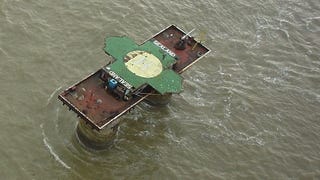 Living in a regular country, with a normal government, can get annoying sometimes. Taxes, laws, political disputes... it's all kind of a bummer. So why not go live in a tiny country of your own? Some people have done it — and here are the most creative and strangest tiny nations on Earth, past and present.
Kingdom of Elleore, on the island of Elleore, Roskilde Fjord, Denmark, which was purchased by a group of Copenhagen teachers in 1944 as a summer camp, but it turned into a gentle parody of the government structure and royal traditions of Denmark.
The novel Robin Crusoe is banned on the island, and everyone uses Elleore Standard Time, which is 12 minutes behind Danish time. It has had six monarchs in the last 70 years.
(via Elleore and Roskilde Fjord)
Celestia (or The Nation of Celestial Space), created by James Thomas Mangan in Evergreen Park, Illinois, on January 1, 1949, claiming all of outer space.
Mangan sent some letters to the United States, United Nations, United Kingdom and Soviet Union to stop all further atmospheric tests, and warning them not to encroach on his so-called "territory".
The nation had more than 19,000 citizens in 1959 (after a booklet was published about Celestia), but it may have become defunct after the death of Mangan in 1970.
(via Wikimedia Commons and Modern Mechanix)