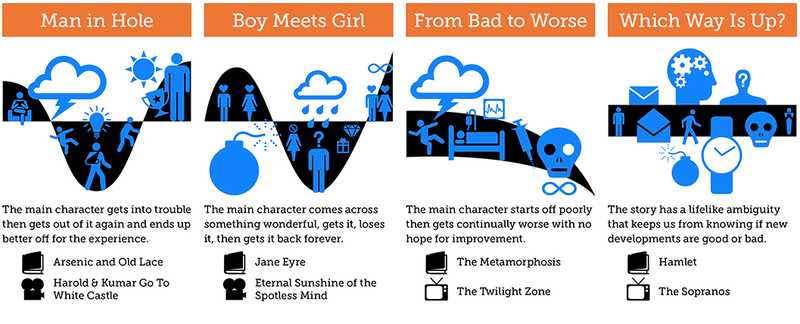 The fundamental concept behind Kurt Vonnegut's master's thesis in anthropology at the University of Chicago was, in Vonnegut's words, "that stories have shapes which can be drawn on graph paper."
Vonnegut's thesis was rejected* ("because it was so simple, and looked like too much fun," according to him), and he left the university soon thereafter, sans degree, to take a job with the public relations department at General Electric; but he would champion his theory defiantly, with characteristic wit and charm, for the rest of his days, both in writing and in lectures like this one:
Now, Vonnegut's musings on the universally plottable shapes of stories have been cleanly and creatively reimagined by graphic designer Maya Eilam, in a rare, appropriate use of the otherwise hackneyed infographic format:
The addition of contemporary examples is a great touch. What other examples can you think of that adhere to Vonnegut's shapely archetypes?
Complement with: The 22 rules of storytelling, according to Pixar.