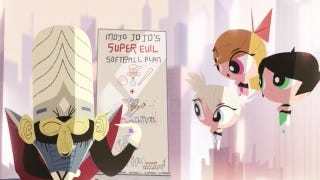 The Powerpuff Girls are back! The trio returns for a special this week, Steven Universe jumps into bizarre world of professional wrestling, and we take a look at Rick and Morty, a 'toon from the mind of Dan Harman.
As always - minor spoilers ahead!
---
Adventure Time - "Blade of Grass"
Finn breaks his sword while fighting a playground full of baddies, so Jake takes him shopping for a new blade. The duo head to Tree Trunk's house to give it whirl, only to learn that the new sword might be cursed.
---
Steven Universe - "Tiger Millionaire"
Ah, it's one of the most storied tropes in cartoons - send your main character off to join and underground fighting league. Wait, no, that's not right. Steven awakens to find Amethyst sneaking out in the middle of the night on her way to a closed doors wrestling federation where she stars as the Purple Puma.
---
The Powerpuff Girls - "Dance Pantsed"
Taking the prime-time slot from Regular Show is the one-off return of the Powerpuff Girls. Mojo Jojo invents a Dance Dance Revolution-style video game as a vehicle to gain control of Townsville, and Beatles drummer Ringo Starr makes an interesting cameo as Fibonacci Sequins.