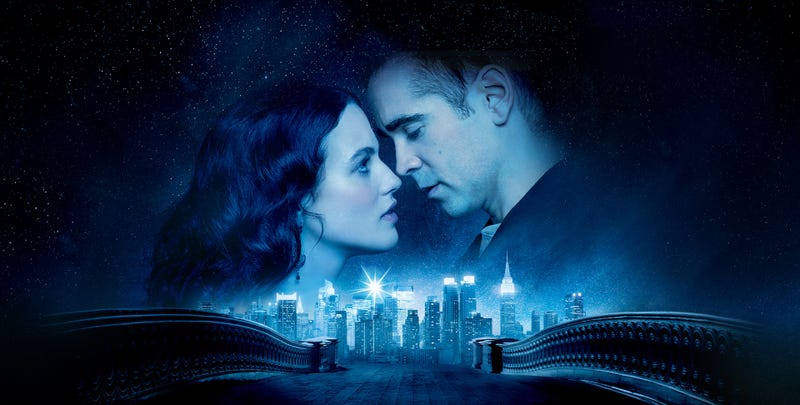 We've seen a lot of terrible fantasy movies, including some awful fairy tales, in recent years. But Winter's Tale, out today, feels like a low-water mark. Worse, it feels like a symptom of a bigger problem: we can't imagine magic and wonder without shellacking on extra layers of heroic destiny and epic good-vs-evil battles.
Spoilers ahead...
Winter's Tale is based on an acclaimed 1983 novel by Mark Helprin, and it's clearly a passion project for writer/director Akiva Goldsman. Goldsman turned Helprin's sweeping magic-realist tale into a fairy-tale romance, and roped in an A-list cast including Colin Farrell, Russell Crowe and a weird Will Smith cameo. But by all accounts, Warner Bros. slashed the movie's budget shortly before filming, from $75 million to $46 million. So the odds were against this one from the beginning.
But that doesn't entirely explain the incoherence of Goldsman's film. Or the fact that every single scene is treated as the most heart-rending emotional heartgasm ever, to the point where you feel as though the movie is beating you across the head and shoulders with a pillowcase stuffed with rocks. Most of all, there's no easy explanation for the movie's weird over-explainy-yet-nonsensical approach to magic and mythos.
There are two components to the movie version of Winter's Tale, and they sit weirdly together: 1) The personal, intimate story of burglar Peter Lake, who falls in love with a terminally ill heiress named Beverly in 1914 and then finds himself still alive in New York in 2014. 2) The epic battle for supremacy between demons and angels, in which they want to prevent Peter from using his "miracle" to save Beverly's life.
Colin Farrell, playing Peter Lake, has a certain surly charm as he falls in love with Beverly (Jessica Brown Findlay). But most of the time he seems both dazed and a little colicky as a rogue who's on the run from the demonic gangsters that he used to work for.
When we first see Farrell, it's 2014 and he's slouching around New York in a scraggly wig, looking like the last remaining member of 1990s acoustic band Extreme:
Peter Lake roams Grand Central Station, trying to piece together his origins as an orphan who was found in a tiny boat as a baby. Then we flash back to 1914, when he used to live in a crawlspace above the station, and see how he fled from the demon mob and found Beverly.
Meanwhile, as the leader of the satanic gang, Pearly Soames, Russell Crowe seems to be having the time of his life coming up with newer and weirder accents every five minutes. (About half the time, Crowe has a strange lisp.) He swaggers around berating his underlings and speechifying about how great it is to be evil. Basically, if you saw Crowe in The Man With the Iron Fists, you've kinda seen this performance.