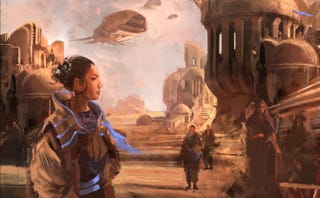 Book editor and critic Joshua Glenn has worked to bring classic early science fiction back into print with his Radium Age Science Fiction Series. Now here's his definitive list of the best adventure stories of all time! (Remember — these are not just scifi, but action/adventure scifi.)
Top image: Sparth
Below, please find a list of one hundred and one of my favorite science-fiction adventures — arranged not qualitatively (which would be impossible) but chronologically. The forty-two titles marked with an asterisk (*) are from my Top 200 Adventures list; the others are second-tier favorites.
In chronological order, here is the list of my Top 101 Science Fiction Adventures:
THE NINETEENTH CENTURY
1818. Mary Shelley's Gothic science fiction adventure Frankenstein, or The Modern Prometheus. From multiple points of view, we read about a brilliant scientist and his creation: a dehumanized creature who longs for love and friendship and, eventually, revenge. PS: There are two editions of the book; the 1831 "popular" edition was heavily revised and tends to be the one most widely read; scholars tend to prefer the 1818.
* 1838. Edgar Allan Poe's Gothic sea adventure The Narrative of Arthur Gordon Pym of Nantucket. Poe's only complete novel — about a teenager who stows away on a ship, is kidnapped by mutineers and pirates, encounters cannibals, and explores the Antarctic before discovering the key to all Western mystical traditions — has been described as "at once a mock nonfictional exploration narrative, adventure saga, bildungsroman, hoax, largely plagiarized travelogue, and spiritual allegory."
* 1870. Jules Verne's science-fiction adventure Twenty Thousand Leagues Under the Sea introduces us to Captain Nemo, a scientific genius who roams the depths of the sea in his submarine — in quest of treasure, knowledge, and revenge. NB: The book inspired Arthur Rimbaud's poem "Le Bateau Ivre."
* 1874. Jules Verne's science-fiction Robinsonade The Mysterious Island. An engineer, a sailor, a young boy, a journalist, and an African American butler escape a Civil War prison in a hot air balloon and crash land on a Lost-type island in the South Pacific. Who is observing them, helping them? Marred by didactic lessons of all sorts.
1895. H.G. Wells's science fiction adventure The Time Machine.
* 1896. H.G. Wells's science fiction adventure The Island of Doctor Moreau. Edward Prendick, a shipwrecked man, is left on the island home of Doctor Moreau, who creates human-like beings from animals. After Moreau is killed, the Beast Folk begin to revert to their original animal instincts.
1897. H.G. Wells's science fiction adventure The Invisible Man. A scientist invents a way to change a body's "refractive index" so that it absorbs and reflects no light. Experimenting upon himself, he becomes invisible… and plans a reign of terror. A great hunted-man type thriller: How do you catch an invisible man?
* 1898. Alfred Jarry's 'pataphysical adventure Gestes et Opinions du Docteur Faustroll, Pataphysicien. Faustroll and his monkey butler travel around Paris — on a mythical register — in a high-tech boat/vehicle. Published posthumously, in 1911.
1898. H.G. Wells's science fiction adventure The War of the Worlds.
1901. M.P. Shiel's science fiction adventure The Purple Cloud.
THE NINETEEN-OUGHTS (1904–13)
Adventure-wise, the Oughts struggled at first to escape the shadow of the 1894–1903 decade, during which H.G. Wells gave us The Island of Doctor Moreau and The Invisible Man and The War of the Worlds and The Time Machine, Bram Stoker Dracula, Jack London The Call of the Wild, Arthur Conan Doyle The Hound of the Baskervilles, Joseph Conrad Heart of Darkness, L. Frank Baum The Wonderful Wizard of Oz, and Anthony Hope The Prisoner of Zenda. A transitional era from the 19th to the 20th Centuries; what rough beast was a-borning? By 1912, a wild new adventure sub-genre — Radium Age science fiction (a term I coined; I've written elsewhere about sf's Radium Age) — had made its mark.
1904. G.K. Chesterton's Radium Age science fiction adventure The Napoleon of Notting Hill, in which battles rage between neighboring boroughs of London.
* 1905. Rudyard Kipling's Radium Age science fiction adventure With the Night Mail follows the exploits of an intercontinental mail dirigible battling a storm. Also, we learn that a planet-wide Aerial Board of Control (A.B.C.) now enforces a technocratic system of command and control in world affairs. (Reissued by HiLoBooks.)
1905. Edwin Lester Arnold's Radium Age science fiction adventure Lieut. Gullivar Jones: His Vacation. It's Gulliver's Travels in space.
1908. H.G. Wells's Radium Age science fiction adventure The War in the Air.
1908. Gustave Le Rouge's Radium Age science fiction adventure Le Prisonnier de la Planète Mars. Sequel: La Guerre des Vampires (1909).
1911. J.D. Beresford's Radium Age science fiction adventure The Hampdenshire Wonder, one of the first science fiction books about a hyper-intelligent mutant child.
As I've written elsewhere, 1912 was one of the most important years in the history of science fiction.