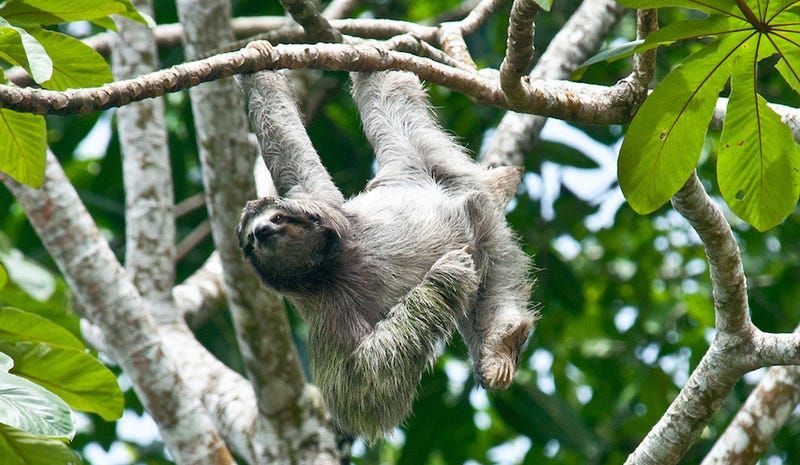 Once a week, three-toed sloths slowly descend from the leafy forest canopy to poop on the ground. Why do these sluggish mammals go on such a long and potentially dangerous journey instead of just letting it fly from the treetops? Scientists now believe the answer has to do with the odd, symbiotic relationship between sloths and moths.
A dangerous toilet
Only about 10 mammalian species — less than 0.2 percent of all mammals — have evolved to eat leaves and fruit that can only be found by climbing trees. Mostly that's because living high in the trees imposes certain lifestyle constraints. First, the animals must be small and light enough to live in that habitat; and second, must be able to digest a huge amount of plant matter, which is rich in fiber but low in nutrients.
Sloths are one of a few animals that make this lifestyle work, and they come in two flavors. Two-toed sloths have a relatively large home range of up to 140 hectares, and a comparatively diverse diet of fruits, leaves, insects, small lizards and carrion. By contrast, three-toed sloths have small home ranges (0.3 to 15 hectares) and dine exclusively on leaves from only a few select trees. As a result of this nutritionally poor, toxic diet, three-toed sloths have the slowest rate of digestion for any mammal. And, as you probably already know from watching cute sloth videos, they have an incredibly slow metabolic rate that amounts to less than half of what's expected for their mass.
The two sloth types also differ in their pooping habits. About once a week, a three-toed sloth will descend from the canopy, create a depression in the ground near the base of a tree with its tail, and defecate in the hole. It then covers its latrine with leaves and climbs back up. Two-toed sloths aren't so ritualistic — they often poop from the canopy, more than once a week.