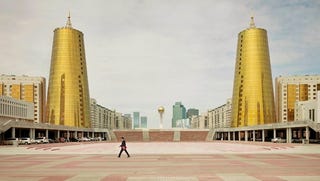 In 1991, Kazakhstan became the last Soviet republic to declare independence. Six years later, the government moved from the Almaty to Astana (formerly known as Aqmola). There, with the help of architects like Norman Foster, they built a futuristic city on the remains of old buildings from the Soviet era.
Here are the results.
Bayterek (means 'tall poplar'), a 344 ft (105 m) tall observation tower, represents a poplar tree holding a golden egg. It was designed by Norman Foster, built in 1997 as a symbol of the new capital.
(via Jamais Cascio and Mariusz Kluzniak)
Two golden towers, also known as 'the beer cans', 1998
(via Frank Herfort, philmensch and Ben Dalton)