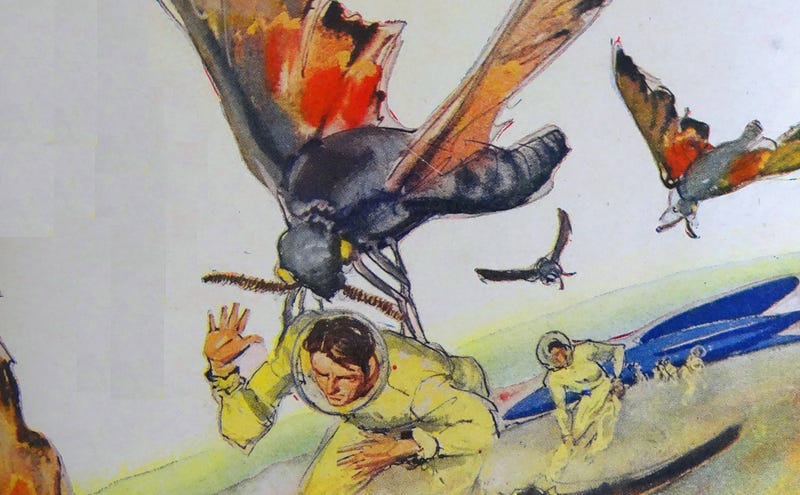 There's no magic bullet for being a decent writer, or making people bond with your characters or fall in love with your story. Writing is a million different skills and challenges, and each story is different. But the more I struggle to make this work, the more I think there's one key thing that makes writing more excellent: Finding your own blind spots as an author, and trying to see into them.
This is something I found out while I was rewriting and editing and tenderizing my new novel, All the Birds in the Sky, which had massive huge blind spots in the middle of it, even in what I thought was the "final" draft. (And it probably still does, because you never really win the fight against your own blind spots.) But it's also something I've found with every other creative writing project I've ever taken on. Just the same way you don't know what you don't know, it's hard to see what you're not seeing in a story—but it's essential to try.
Your blind spots are almost always where the most interesting stuff is hiding. They're the weaknesses and omissions in your story, but they're also where you'll often find the strongest emotional pressure points. Your own blind spots contain all the unquestioned assumptions that can either break your story—or make it much stronger.
The most common kind of blind spot, in fact, is a plot hole: Something that happens in your story that defies logic, but you didn't notice, because it made sense to you, the author. This honking huge coincidence, contrivance, or total lapse in logic, has allowed you to get from A to B in your plot outline—but actually, you glossed over some crucial stuff. You just figured that certain things "happened" "somehow," without fully interrogating them.
When a plot hole comes from your own unexamined assumptions and expectations, then it can be especially hard to find and eradicate.
But a major narrative blind spot can also include those side characters that you didn't quite flesh out, or make believable even as background players. You know, that supporting actor who's just there to make the main character look good, but who is sort of embarrassingly thin on the ground. Plus the moments that you skimmed past, on your way to the next big set piece.
But blind spots are also about your main characters, and their motivations and relationships—and the choices they make that aren't entirely set up or justified by the story. Without getting too meta, chances are your protagonist's blind spots are a version of your own blind spots as a writer and as a person, and the things that they don't think about are things that you don't think about. But you're putting them into an unreal situation, and—for example—if your character goes through a horrendous trauma and then shakes it off a few pages later, that's an example of not really seeing something important.
Blind spots also include the holes in your worldbuilding—all the stuff that you created in the background, that add up to a setting that isn't entirely logical or convincing. And your blind spots, all too often, are cultural—they include cultural prejudices, and your own ignorance about other cultures. Especially if you belong to the dominant culture, then all of society's engines have been deployed to keep your ignorance about other cultures and experiences as comfortable as possible.